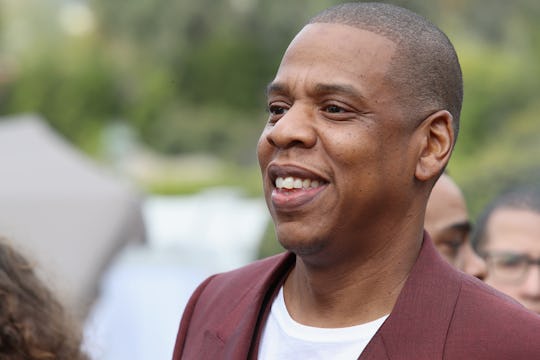 Ari Perilstein/Getty Images Entertainment/Getty Images
JAY-Z '4:44' Lyrics About Beyoncé Echo 'Lemonade'
Remember that uncomfortable feeling that you got when you first heard Lemonade, almost as if you were eavesdropping on a married couple's heated argument? Well, get ready to feel it all over again, because JAY-Z's 4:44 lyrics about Beyoncé rehash the whole messy situation, and whether or not anyone asked for it, the Grammy-winning recording artists have made their relationship everybody's business (or at least they've made fans think they have). Representatives for the couple have not returned Romper's requests for comment, and as of now, there is no real evidence that JAY-Z cheated on his wife.
Fans can listen to 4:44, JAY-Z's first album since 2013's Magna Carta Holy Grail, on iHeartRadio for free all day on Friday. After that, a TIDAL subscription will be necessary to stream the album. Throughout the album, the rapper makes references to his alleged affair that many inferred from Beyoncé's Lemonade, as well as the infamous elevator fight with his sister-in-law, Solange Knowles, which took place more than three years ago. While he only had good things to say about his wife and her sister, according to Complex, JAY-Z also took time to reference Kanye West, Future, Eric Benét, Al Sharpton, Bill Cosby, and attorney L. Londell McMillan, an adviser to Prince's estate. Those lines were decidedly less flattering. But for now, let's focus on Bey.
"You almost went Eric Benét"
Wait, who? During the first track, "Kill Jay Z," he seems to be addressing himself with the lyrics, "You egged Solange on, knowin' all along all you had to say you was wrong / You almost went Eric Benét, let the baddest girl in the world get away," according to USA Today. Actor and singer-songwriter Eric Benét is perhaps best known as the ex-husband of Halle Berry who admitted to cheating on her, which led to their 2003 breakup. He's been married to Manuela Testolini since 2011. While JAY-Z only names his wife's little sister and a man who was in the tabloids more than a decade ago, "the baddest girl in the world" is surely Beyoncé.
"I suck at love"
The lyrics of the eponymous track also allude to marital problems, with such lines as "I suck at love, I think I need a do-over / I will be emotionally available if I invited you over" and even more tellingly, "And if my children knew, I don't even know what I would do / If they ain't look at me the same / I would prolly die with all the shame / You did what with who? What good is a ménage à trois when you have a soulmate, you risked that for Blue?" A ménage à what now? That's new information.
"Let me alone, Becky!"
In what appears to be a clear response to Lemonade, the rapper uses the same pseudonym for his alleged paramour that his wife did last year. On the track "Family Feud," he raps, "Yeah, I'll f*ck up a good thing if you let me / Let me alone Becky!" This echoes Beyoncé's 2016's "Sorry" lyrics: "He only want me when I'm not there / He better call Becky with the good hair." These two lines are a bit contradictory, though, as he appears to blame himself for jeopardizing his own marriage in the first, but then seems to pin the blame on the mystery woman.
"I apologize, often womanize"
Also on "4:44," JAY-Z gets a little more specific about the subject of cheating. Sadly, he also seems to blame himself for multiple failed pregnancies: "I apologize for all the stillborns / 'Cause I wasn't present, your body wouldn't accept it." Now that both Beyoncé and JAY-Z have aired their grievances, and they've reportedly had three healthy kids, it seems that the storm may finally be over.