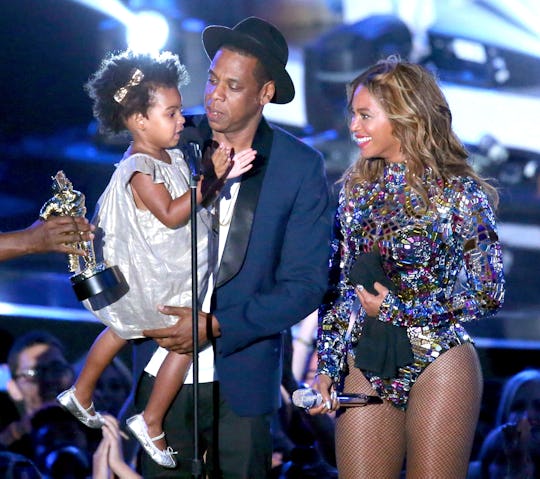 Mark Davis/Getty Images Entertainment/Getty Images
Jay Z & Blue Ivy Share A Father-Daughter Dance, & It's So Sweet
There are few things as heartwarming as seeing a little girl dancing with her dad — standing on his big feet, twirling ungracefully, being picked up, laughing. Fans of the super-couple, Jay Z and Beyoncé, will be beside themselves with this glimpse into their family life. Jay Z and Blue Ivy shared a father-daughter dance this week, melting hearts and affirming fans that maybe, just maybe, Jay Z and Beyoncé are going to be just fine.
Recently, Jay Z has been in the news, or at least the gossip columns. Beyoncé's multimedia mega-hit, Lemonade, took the music world by storm. But, in the process, some fans think it may have laid bare the struggles of Beyoncé and Jay Z's marriage. Fans think that song after song points a finger, not very subtly, at Jay Z's cheating, leaving fans wondering, "did he do it?" For a few days, the speculation was rampant. But many fans seem to be looking past Jay Z's alleged indiscretions, or at least accepting that there are many other places Bey could've drawn inspiration. Beyoncé seems to have forgiven him (if the album was even about him).
Despite that private drama played out on a massively public stage, Jay Z made a discrete appearance to show his support for Beyoncé during her Formation World Tour show in Tampa, Florida. During her show-stopping performance of "End of Time," Jay Z and Blue Ivy danced backstage, seemingly oblivious to the thousands of people just on the other side of the curtain. With such a massive reputation at such a young age, it's easy to forget that Blue Ivy is just a little girl. This video of her twirling, hopping, and goofing around with her dad is a good reminder of that. It's also a good reminder that whatever broadcasted tumult or scandal Beyoncé and Jay Z may have been wrapped up in, they are still a family, and every family has its issues. This one just happens to be famous.
Editor's Note: The Instagram post has since been deleted.
To clear up any doubt about the state of Jay Z's and Beyoncé's mending marriage, she dedicated the final song in her Miami, Florida, performance to her husband, through thick and thin. Before she belted out the bittersweet, beautiful, "Halo," she said, "I want to dedicate this to my beautiful husband ... I love you so much."
Jay Z and Beyoncé are bound up by so much, not the least of which is their spunky daughter, Blue Ivy. Given her genes, it's no wonder she likes to dance, and she doesn't care who sees her doing it.