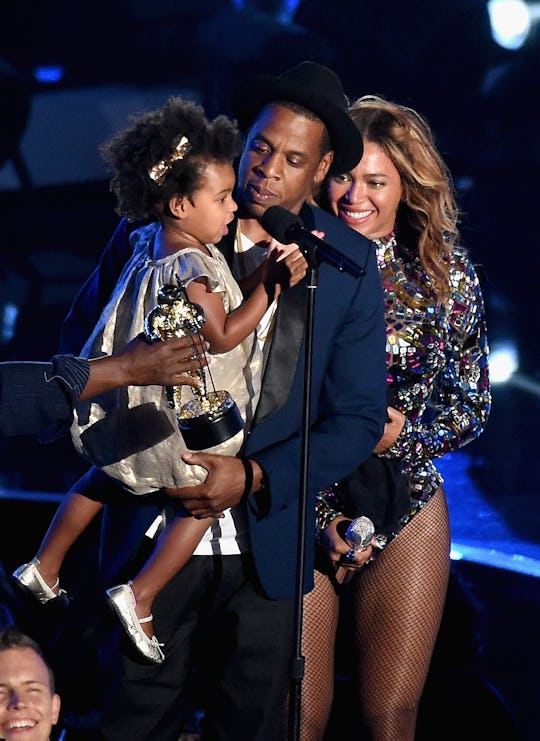 Michael Buckner/Getty Images Entertainment/Getty Images
Come Cry Over These Jay Z Quotes About Blue Ivy
Last week, the internet received a much-needed dose of joy when Earth-dwelling goddess Beyoncé announced that she was pregnant with twins. Beyoncé and husband Jay Z will be giving their daughter Blue Ivy a couple of amazing new playmates, and if anyone has doubts about whether or not Jay Z is ready to expand the family, one only has to look at the many Jay Z quotes he's made about Blue Ivy over the years to see that he loves being a father. With a family like that, who wouldn't?
Beyoncé gave birth to Blue Ivy in January 2012, and immediately, she and Jay Z came strong out of the gate with a joint statement saying that they were "in heaven." "It was the best experience of both of our lives," they stated.
Then, at the 2014 Grammy Awards, when Jay Z won the award for best rap/sung collaboration for "Holy Grail" with Justin Timberlake, he took the occasion of his acceptance speech to give a shout-out to his daughter, adorably turning his gold gramophone award sideways and saying, "I want to tell Blue, Daddy got a gold sippy cup for you."
And apparently, Blue Ivy loves her father's music, a fact that thrills Jay Z. He told Vanity Fair in November 2013,
She's my biggest fan. If no one bought the Magna Carta [album], the fact that she loves it so much, it gives me the greatest joy. And that's not like a cliché. I'm really serious. Just to see her — "Daddy song, more, Daddy." She's genuine, she's honest, because she doesn't know it makes me happy. She just wants to hear it.
Another heartwarming bit from that Vanity Fair interview? He told the magazine that although he'd never learned to swim when he was a kid, he was learning so that he could teach Blue Ivy.
But perhaps Jay Z's most beautiful tributes to his daughter come in his songs. He started writing to her before she was even born, with "Glory," which he released just days after her birth. The chart-topping song included a snippet of her crying, along with the lyrics, "The most amazing feeling I feel/ Words can't describe the feeling, for real/ Baby I'll paint the sky blue/ My most greatest creation was you."
And later, in the song "Jay Z Blue," he raps,
Nothing could prepare us/ For the beauty that you be Blue be/ Looking in your eyes is like a mirror/ Now I got my own daughter/ Taught her how to take her first steps/ Cut the cord watch her take her first breath
We'll have to wait and see what he ends up saying or writing about his twins, but if his record on Blue Ivy is any indication, it's sure to be good.