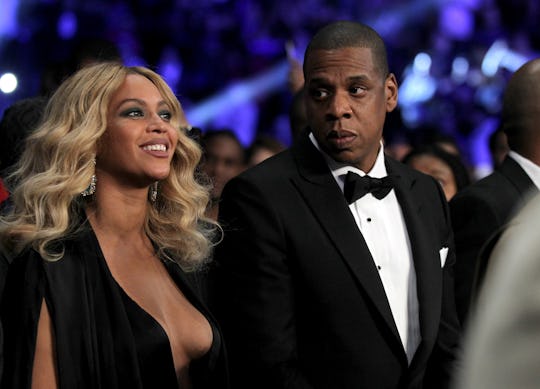 Isaac Brekken/Getty Images Entertainment/Getty Images
JAY-Z Reveals The Reason He Cheated On Beyoncé, & It's Heartbreakingly Honest
Having a relationship play out in the public eye can't be easy. I mean, when you go from being "in a relationship" to "single" on Facebook, it can be hard to face your friends in real life. Now, imagine that on a totally international and public level. That's exactly why JAY-Z's comments on infidelity and saving his marriage with Beyoncé prove that celebrities are just humans, after all.
In an exclusive interview with Dean Baquet for T: The New York Times Style Magazine, JAY-Z opened up about a lot of things going on in his life, his career, his marriage, and "admitting to past infidelity," as People reported. While also revealing that he attended therapy, JAY-Z discussed what it was like for him and his wife, Beyoncé, to both release such personal, intimate music that gave their fans an inside look at their marriage. Discussing how he and Beyoncé managed to learn and grow through the pain, JAY-Z told Baquet:
You know, most people walk away, and like divorce rate is like 50 percent or something 'cause most people can't see themselves. The hardest thing is seeing pain on someone's face that you caused, and then have to deal with yourself ... So, you know, most people don't want to do that. You don't want to look inside yourself.
Fortunately, it seems that both JAY-Z and Beyoncé have looked inside themselves to find a dedication and love that will get them through the hard times.
After discussing his complicated relationship with fellow rapper Kanye West, Baquet asked JAY-Z about what it was like to be married to someone else who is also in a creative profession. As fans will remember, Bey's 2016 album Lemonade was rife with allusions to marriage troubles between the happy couple, most vividly in "Sorry," when she sang:
Looking at my watch, he shoulda been home / Today I regret the night I put that ring on.
Then, on JAY-Z's latest album, 4:44, he raps about letting his wife down:
And if my children knew, I don't even know what I would do / If they ain't look at me the same / I would probably die with all the shame / "You did what with who?" / What good is a ménage à trois when you have a soulmate? / "You risked that for Blue?"
After all, while neither entertainer explicitly states any infidelity happened, Bey's lyric that he better call "Becky with the good hair," certainly suggests that was the case. What's more, HuffPost literally asked marriage therapists to analyze lyrics in JAY-Z's 4:44, and one of them even said that, "We really get a glimpse into the shame he feels, knowing he risked it all in the name of lust."
Clearly, the two are used to expressing themselves through song, although Baquet wondered if that would get awkward between the two.
"I'm trying to picture the scene when you and your wife both talked about making these very confessional, open albums," he said in the interview. But, according to JAY-Z, "it didn't happen in that way." On the contrary, JAY-Z explained that it was actually much simpler than that. "We were using our art almost like a therapy session," he told Baquet. And indeed, actual sit-down therapy is something that the rapper opened up about as well. When asked how he took to it, he responded honestly, telling Baquet:
I grew so much from the experience. But I think the most important thing I got is that everything is connected. Every emotion is connected and it comes from somewhere. And just being aware of it. Being aware of it in everyday life puts you at such a ... you're at such an advantage.
Truly, while JAY-Z may be worth an estimated $610 million, but that doesn't mean he doesn't go through the same type of problems that everyone else does. Of course, he can probably afford a $1,000 per hour therapist, but that's beside the point. While he acknowledged that he hurt Bey — and their respective albums certainly appear to validate those claims — the two have obviously worked through it. And who knows? Maybe they'll release that rumored joint album soon and answer the rest of the world's burning questions.
Check out Romper's new video series, Romper's Doula Diaries:
Watch full episodes of Romper's Doula Diaries on Facebook Watch.