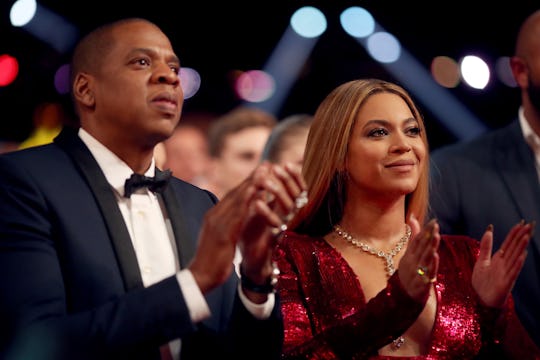 Christopher Polk/Getty Images Entertainment/Getty Images
JAY-Z's "Family Feud" Video Is Here, & Fans Cannot Handle It
JAY-Z's new video for "Family Feud" dropped Friday at 4:44 Eastern Time, which is perfect as the song is from the rapper's 4:44 album, released back in June. Now that the video for JAY-Z's "Family Feud" is here, JAY-Z and Beyoncé fans are picking apart the project, looking for every little hint and reference in the video, especially because the preview for the video included JAY-Z confessing his sins in church and "scenes of infidelity," among other images, according to ABC News.
The song features vocals by Beyoncé, JAY-Z's wife, and she co-wrote the track too, ABC News reported. The song "Family Feud" includes the line "Yeah, I'll f*ck up a good thing if you let me. Let me alone, Becky," which many fans think is an apology to Beyoncé, who referenced apparent infidelity on her own album, Lemonade, according to CBS News.
No one outside of their marriage can be 100 percent sure of what happened there, but with both stars alluding to infidelity in their music, and the preview for this video referring to it as well, it's safe to say at least some of the ugly truth is revealed in the full "Family Feud" video.
The 33-second trailer for the video dropped on Thursday, and the featured song is just one of a number of tracks on the 4:44 album where JAY-Z addressed his infidelity, according to NME. The preview and full video appeared on the streaming music service, Tidal, which is owned by JAY-Z. That's one way to get subscribers and the attention of Tidal users, I guess.
But the longer version of the video revealed so much more than a short teaser ever could and proved to be about so much more than infidelity. The story opens with a James Baldwin quote, stating:
The wretched of the earth do not decide to become extinct, they resolve, on the contrary, to multiply; life is their weapon against life, life is all that they have.
This is from Baldwin's essay titled The Devil Finds Work, which focuses on racial politics of American cinema. But from there it gets even more interesting. As the video progresses, you see a group council leaders (all women) in the far off future making very important government decisions about the constitution. Leading the pack is Susan Kelechi Watson, who plays Beth on This Is Us. She is clearly supposed to be an adult version of Blue Ivy.
It's surprising to both me and fans that infidelity and the state of JAY-Z and Beyoncé's marriage weren't as big of a part of the "Family Feud" video, especially since so much of Lemonade obviously referenced trouble in paradise. In fact, JAY-Z has been pretty honest in the past about the fact that he cheated, and that it took a lot to work through the issues he was having personally, and that they were having in their relationship.
JAY-Z fully admitted to his infidelity in an interview with journalist Dean Baquet for The New York Times' T Magazine. He told Baquet that his inclination to "shut down emotionally" was partly to blame for his cheating. At the time, JAY-Z told Baquet:
In my case, like it's, it's deep. And then all the things happen from there: infidelity...
And that honest admission was a little shocking, but also maybe better for JAY-Z and Beyoncé than trying to cover up the truth or dodge the elephant in the room with the media and fans for months or even years. And if nothing else, it did lead to some great music from both artists.
But this video was about so much more than that. One of the most epic moments of the video (and believe me, there were a lot of them) involved JAY-Z walking his daughter Blue Ivy inside of a church. The video cut to this scene just as the future version of Blue Ivy (Watson) said: "America is a family and the whole family should be free... It's like I remember my father saying when I was a little girl..."
It couldn't be more clear that Blue Ivy is supposed to grow up to be one of the leaders in a position of governmental power, proving just how much of an impact her father expects her to have on the world. And honestly, I can't think of a more uplifting thought as the very dark year of 2017 comes to a close.
"Family Feud" definitely wasn't what I expected, but that didn't make it any less powerful. In fact, I full intend to watch the video over and over again this holiday weekend.
Check out Romper's new video series, Romper's Doula Diaries:
Watch full episodes of Romper's Doula Diaries on Facebook Watch.