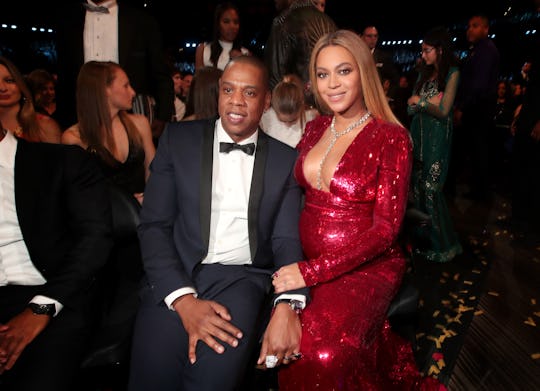 Christopher Polk/Getty Images Entertainment/Getty Images
Jay Z's Mom Just Visited The Hospital Where Beyoncé Gave Birth
The evidence is mounting, folks. On the same day that Beyoncé's dad tweeted news about the twins' birth, Jay Z's mom visited the hospital where Beyoncé reportedly delivered as well. Beyoncé and Jay Z's reps have yet to confirm the news, but Gloria Carter's coincidental hospital visit just seems like further proof that the Lemonade star's twins have indeed arrived.
Romper reached out to Beyoncé's rep for comment, but did not hear back immediately. However, according to E! News, Gloria Carter arrived on Sunday morning at the Los Angeles hospital where Beyoncé reportedly gave birth to her twins earlier that week. Jay Z and daughter Blue Ivy, 5, were also reportedly seen there the day before. The news may not be official yet, but it's seeming more and more certain that Beyoncé has given birth to the Carter twins.
On Sunday, Mathew Knowles — Beyoncé's dad — also posted a congratulatory picture on Twitter wishing the twins a happy birthday, with a caption that simply read, "They're here!"
Neither Beyoncé nor Jay Z has commented on the reported birth, but Jay Z skipped a gala in New York on Thursday where he was set to be inducted into the Songwriters Hall of Fame. He posted a series of 13 tweets thanking those who inspired him instead, including one very dad-like tweet that read, "Somebody find that reply I just hit please. I'm new on this."
Beyoncé first announced her second pregnancy in February, when she posted a record-breaking picture on Instagram. She shared that she and Jay Z were expecting twins, writing, "We have been blessed two times over. We are incredibly grateful that our family will be growing by two, and we thank you for your well wishes." (That picture then proceeded to become the most liked picture on Instagram in just 11 hours, so all of the hubbub surrounding the twins' reported birth shouldn't be too surprising.)
Jay Z's mom may have visited the hospital and Beyoncé's dad may have shared some birth news, but so far, Beyoncé's mom has been keeping quiet and out of sight. According to E! News, "Miss Tina," Tina Knowles-Lawson, has only been sharing pictures of friends' birthday parties on Instagram, so if she has visited the Carter twins, the public has yet to hear about it.
Of course, the news won't be official until it comes from Jay Z and Beyoncé — but with all of the fanfare, an announcement could be on its way soon. Here's to hoping it also comes with baby pictures.