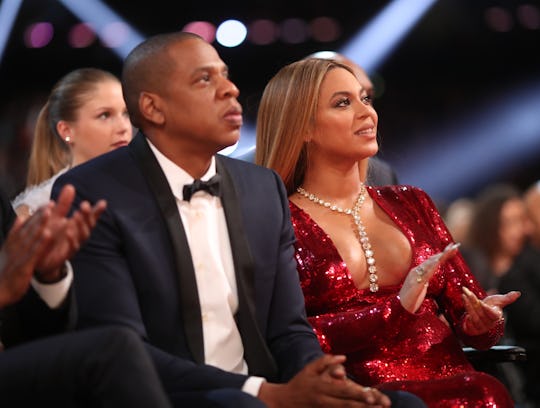 Christopher Polk/Getty Images Entertainment/Getty Images
JAY-Z's "Moonlight" Lyrics On '4:44' Are Important
On his latest album, 4:44, JAY-Z referenced a widely publicized, cringeworthy moment in pop culture: the moment La La Land was mistakenly announced as the winner of Best Picture at the Academy Awards back in February. "We stuck in La La Land," JAY-Z sang in "Moonlight" (which is coincidentally the name of the movie that did win Best Picture). "Even when we win, we gon' lose." JAY-Z's "Moonlight" lyrics on 4:44 aren't only about a single, flubbed awards announcement, however — they point to the deeper, more insidious problem that plagues Hollywood when it comes to race and recognition.
"It's like a subtle nod to La La Land winning the Oscar, and then having to give it to Moonlight," JAY-Z told iHeartRadio about the track recently. "It's really a commentary on the culture and where we're going."
Hollywood has always been a hard place to succeed for anyone who is not young, white, and Eurocentric, but the world has only recently started calling out the lack of recognition given to actors of color. The last few Academy Awards have prompted outraged fans to take over the internet with the hashtag #OscarsSoWhite, and in 2016, the backlash reached a definitive fever pitch.
Moonlight's win earlier this year should have been a moment of victory for diversity in Hollywood, but instead, it was tangled up in an announcement mistake. And as columnist Suzanne Moore wrote for The Guardian following the flub, those mistakes say a lot about our culture:
This is why this mix-up mattered more than a bit of onstage awkwardness. What some people saw in this mistake was again a cultural bias against black art, unconscious though it may be. ... All these achievements should not be overshadowed by a stupid mistake, but they have been because mistakes somehow reveal a deeper truth which is that movies like Moonlight don't win Oscars. Until they do.
Even as black artists start finally getting the recognition they have long deserved, those biases and frameworks are still very much in place — and that's exactly the point JAY-Z wants to impress on artists who are working with a system that doesn't work for them. "Y'all niggas still signin' deals? Still? After all they done stole, for real?" JAY-Z raps in "Moonlight." "I don't be on the 'Gram goin' ham, givin' information to the pork, that's all spam."
"Glorified seat filler, huh?" JAY-Z raps. "Stop walkin' around like y'all made Thriller, huh?" JAY-Z probably couldn't care less about an announcement mishap at an awards show — but he's very clear on the fact that Hollywood has a long way to go before black artists are treated as more than just tokens.