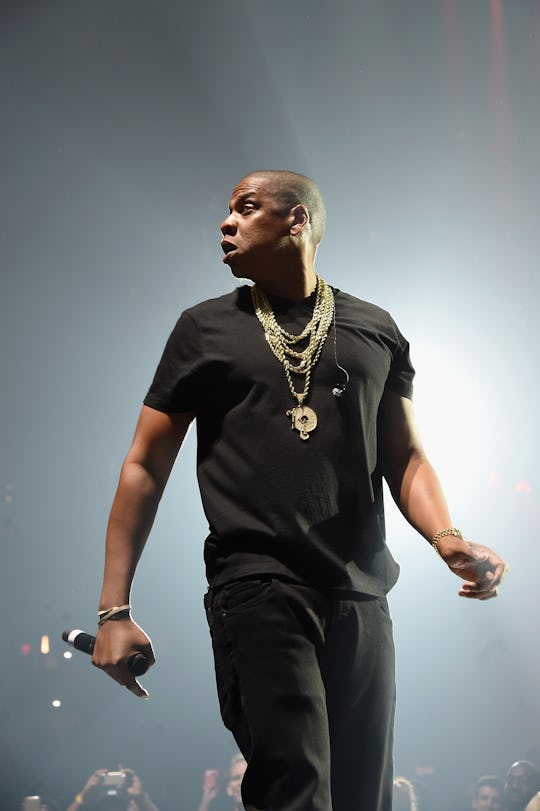 Jamie McCarthy/Getty Images Entertainment/Getty Images
Jay Z's New Song About Police Brutality Is Poignant After Sterling & Castile's Deaths
Jay Z released his first new song since 2013's Magna Carta... Holy Grail on Thursday, the same week that two black men, Alton Sterling and Philando Castile, were killed by police officers in Louisiana and Minnesota. The song, titled "Spiritual," was featured prominently on Tidal's main page, made freely available to both Tidal users and those without subscriptions to the streaming service. Jay Z's new song, about police brutality, was accompanied with an explanatory note:
I made this song a while ago, I never got to finish it. Punch (TDE) told me I should drop it when Mike Brown died, sadly I told him, 'this issue will always be relevant.' I'm hurt that I knew his death wouldn't be the last...... I'm saddened and disappointed in THIS America - we should be further along. WE ARE NOT. ... Blessings to all the families that have lost loved ones to police brutality.
Mike Brown died Aug. 9, 2014, which means Jay Z had "Spiritual" in the works for approximately two years before releasing it. While no names are explicitly mentioned, the song is undeniably about police brutality, with the chorus repeating, "I am not poison, no, I am not poison, just a boy from the hood that got my hands in the air in despair, don't shoot, I just wanna do good."
This isn't Jay Z's first time speaking out — or rapping — about police brutality. In May last year, he freestyled for Tidal and mentioned the deaths of Freddie Gray, Mike Brown, and Trayvon Martin, singing:
You know niggas die for equal pay right? You know when I work I ain't ya slave, right? You know I ain't shuckin' and jivin' and hi-fivin', You know this ain't back in the days, right? Well, I can't tell [by] the way they killed Freddie Gray, right? Shot down Mike Brown, how they did Tray, right?
Jay Z's activism hasn't stopped with music, either. After Eric Garner's death in 2014, Jay Z worked with Justice League NYC to help several Brooklyn Nets players receive "I Can't Breathe" t-shirts to wear in protest during a big game. In 2015, activist Dream Hampton also tweeted that Jay Z and his wife, Beyoncé, allegedly contributed thousands of dollars to help bail out police brutality protestors in both Ferguson and Baltimore.
Jay Z's latest song is already receiving praise — as it should. By using his talent to shine light on a pressing issue, he's bringing the conversation to a larger audience that it might not reach otherwise.