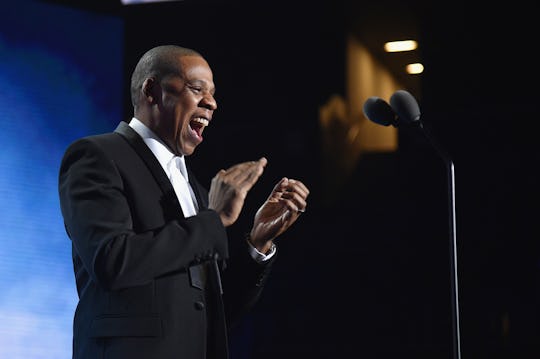 Bryan Bedder/Getty Images Entertainment/Getty Images
Jay Z's Reaction To Bey's Pregnancy Is So Touching
Before we go any further, I'd like you all to personally know that this is the absolute best day of my life. Shortly after announcing that not only is she pregnant again, but that Beyoncé is pregnant with twins it only took mere seconds for the Beyhive to lose its collective hive mind. While fans' and well wishers' support trickles in, Jay Z's reaction to Beyonce's pregnancy news is, of course, one for the books.
The couple, who are already parents to Blue Ivy who was born in 2011, announced their pregnancy with a perfectly timed Instagram post. (Yes, the announcement is, was, always will be perfect, don't @ me with your bullsh*t in a time like this.) In a joint statement, Beyoncé's personal account reads:
We would like to share our love and happiness. We have been blessed two times over. We are incredibly grateful that our family will be growing by two, and we thank you for your well wishes. - The Carters
The joint statement is proof alone of how special this moment is for the entire Carter family: Jay, Bey, and big-sister-to-be Blue Ivy. Romper reached out to Jay Z for a personal statement on the pregnancy news, but did not hear back at the time of publication. For the time being, the Carters' statement stands alone as a testament not only the strength of their union (remember all that speculation post-Lemonade release?), but also of the joy their family is likely flooded with.
Shortly after Blue Ivy was born, Jay Z released a song titled "Glory" where he talked about Blue Ivy's birth and what becoming a father meant to him. In the song, he rapped:
The most amazing feeling I feel
Words can't describe what I'm feeling, for real
Baby paint the sky blue
My greatest creation was you
False alarms and false starts
All made better by the sound of your heart
All the pain of the last time
I prayed so hard it was the last time
Your mama said that you danced for her
Did you wiggle your hands for her?
Glory!
Prior to their firstborn's birth, Beyoncé was candid about her struggle to conceive and also about her miscarriages. In her documentary Life Is But a Dream that aired on HBO, Beyoncé said: "About two years ago, I was pregnant for the first time. And I heard the heartbeat, which was the most beautiful music I ever heard in my life." Though she didn't share when she lost her baby (and she shouldn't have to — a loss like that, and a loss of any kind, deserves whatever kind of privacy those grieving want to give it), Beyoncé did share that she had picked out names for her child:
I picked out names. I envisioned what my child would look like...I was feeling very maternal. I flew back to New York to get my checkup — and no heartbeat. Literally the week before I went to the doctor, everything was fine, but there was no heartbeat.
Though the couple endured a devastating loss, the proud parents have not been shy about just how breathtaking life with their daughter has been. Now, their love is going to triple. Beysus bless.