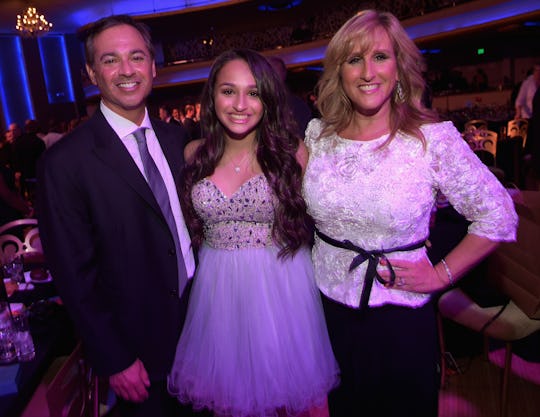 Jason Kempin/Getty Images Entertainment/Getty Images
Jazz Jennings' Response To Derick Dillard's Anti-Trans Tweet Will Make You Adore Her
On Wednesday, TLC reality personality Derick Dillard — also known as the husband of Jill Duggar, one of the kids from 19 Kids and Counting fame — tweeted a comment about fellow TLC star Jazz Jennings that at best can be read as mean and ignorant and, at worst and most honest, is completely transphobic. Now, Jennings has responded, showing more class in one tweet than in any of the related tweets Dillard posted in regards to his first comment. Jazz Jennings' response to Dillard's anti-trans tweet shows her strength — the strength she's had to call upon her whole life to deal with mean-spirited people like Dillard, apparently. Dillard's representative did not immediately respond to Romper's request for comment and neither did TLC.
According to People, Dillard's tweet about Jennings also targeted TLC, where Counting On — a show about the Duggar family that Dillard married into — airs. TLC is also the home of Jennings' show, I Am Jazz. He called Jennings' show, "an oxymoron... a 'reality' show which follows a non-reality," in response to a tweet from TLC about the show. And that's led to a lot of controversy for Dillard and the Duggar family.
Dillard also tweeted, "'Transgender' is a myth. Gender is not fluid; it's ordained by God." Rightfully, a whole lot of people called him out because his comment is not only extremely ignorant and transphobic, but it's also a super low blow for him to attack a teenage girl.
But Dillard didn't stop with just the one tweet. According to USA Today, he continued to completely disrespect Jennings by misgendering her in a response to his original tweet, as well. When someone questioned whether it was "necessary for a grown man to throw shade at a teenage girl," Dillard's response was: "I want to be clear. I have nothing against him. I only have issue with the words and definitions being propagated here."
Instead of attacking Dillard back, though, the 16-year-old decided to take the high road.
On Thursday, Jennings tweeted, "Every day I experience cyber-bullying, but I keep sharing my story. Today was no different."
She didn't call out Dillard, or his family, at all. But it was pretty clear who and what Jennings was referring to.
A lot of people told Dillard what he was doing was wrong, but it's anyone's guess whether he'll learn anything from this experience.
But what really matters here is the fact that Jennings responded to Dillard's words with such strength, while at the same time acknowledging the fact that this is not new for her. Jennings has had to deal with bullies for a long time, just for being honest about who she is.
And she's not alone. According to the National Center for Transgender Equality, the fight for acceptance for transgender youth is ongoing. The center reported that 75 percent of transgender youth don't feel safe at school, and that 59 percent of trans students have been denied access to restrooms that are consistent with their gender identity.
In response to Dillard's tweets, TLC said wrote on Twitter, "It is important for us to let our viewers know that Derick Dillard's personal statement does not represent the views of TLC."
It seems Jennings is pretty good at dealing with bullies and critics all on her own, and she's probably more practiced at it at 16 than many of us learn to be our whole lives.
Jennings is clearly a very strong person. And it'll take more than a few ignorant tweets from Jill Duggar's husband to tear her down.