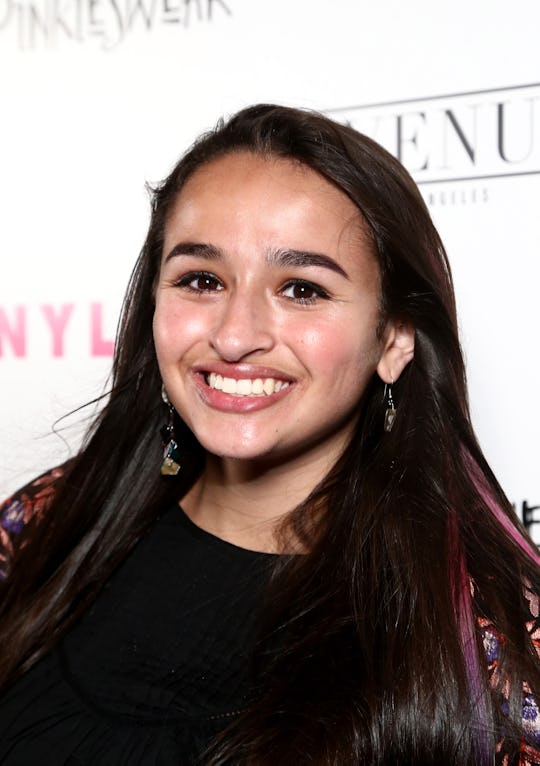 Tommaso Boddi/Getty Images Entertainment/Getty Images
Jazz Jennings Finally Had Her Gender Confirmation Surgery & Is "Doing Great"
The 17-year-old star of TLC's I Am Jazz and LGBTQ rights activist, Jazz Jennings, says she's "doing great" after her recent gender confirmation surgery, according to PEOPLE. In a June 1 YouTube video, "Preparing For Gender Confirmation Surgery," Jennings let fans know that she would be undergoing the surgery on June 26, and it sounds like the whole thing went very smoothly. Jennings posted her first post-surgery photo on Instagram on Thursday, and also tweeted to let her fans and followers know everything had gone well.
Jennings is an American teenager who identifies as female, but was assigned male at birth. Her parents said during an interview with Barbara Walters in 2007, "'I'm a Girl' -- Understanding Transgender Children," that their daughter has identified as female since "the moment she could talk," according to CBS News.
Jennings went on to host a series of YouTube videos about her life, titled "I Am Jazz", and later became the star of a TLC reality TV show of the same name. TLC's website notes that although Jennings deals with all the same issues most teenage girls contend with, the show also documents "the unique challenges of being a transgender girl." Thanks to the early interview, her YouTube series, and the acclaimed TV show, Jennings is now a very well-known transgender figure.
And now, after years of waiting, Jennings finally underwent the gender confirmation surgery she's been wanting to get her whole life. As someone with such a public presence, it makes sense that she would celebrate this milestone with fans and followers, and keep them updated on the whole process, as much as Jennings is comfortable doing.
The caption of the Instagram post and the photo Jennings shared was simple, and read:
i'm doing great, thanks for all of the love and support💖
Jennings shares updates on her life with her Instagram followers fairly often, but this latest post may be the most important information about her life that she's shared on the social media platform yet.
In the June 1 YouTube video, Jennings wrote in the description that she's "been ready to get this operation for so long as it's the final step to complete my transition." She went on to say in the video itself, according to PEOPLE:
It's coming up so soon. June 26 is when I'm getting the surgery, so like a month away. That is insane. I am so looking forward to it. I've been ready for this my entire life.
And when it comes to being so open and personal about her transition journey, Jennings later added:
If I put out this information for people to see, they won't need to ask any more questions. And also, it's educational within the community as well. A lot of parents who have transgender kids are like, 'What do I do? I don't know much about this process.' And seeing our show kind of helps them figure out what steps they could take to help their kids and what the journey might look like in the future.
In the YouTube video, Jennings reiterated how ready she's been for a long time to have the surgery done, and was not shy at all about expressing just how excited she is to have a vagina. But she also mourned the fact that she's not going to be able to pee standing up, which, okay, that's fair.
It's a little surprising that Jennings decided to post a social media update so soon after having the surgery done, only because she's probably taking this time to relax and heal up and doesn't need any distractions. But at the same time, Jennings has clearly been open about every single step of her journey, and this was a big step. Her fans are super lucky that she wants to keep them updated, and let everyone know that she's "doing great" after such a big, wonderful change in her life.