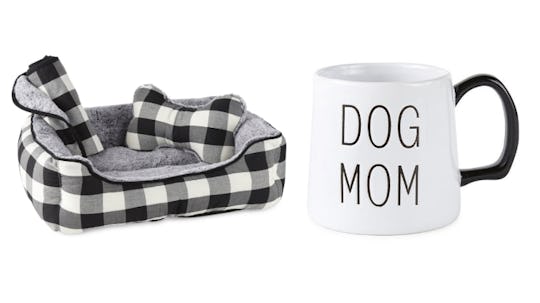 JCPenney
Apparently JCPenney Is Making Super Cute & Minimalist Dog Products Now
If you're a '90s kid, you may remember the enormous JCPenney holiday catalog that would arrive with a thud in late October. To be honest, I haven't really given the department store much of a thought since then. That is, until recently, when I learned that JCPenney has a new dog brand, Paw & Tail, and it's actually really chic and practical.
You may not know this yet, but your dog deserves a special hook just for their leash. They want a cute little treat holder, and if you're going to call them your best friend, then the least you can do is buy them a fleece pillow (that you can cozy up to, too). A gingham dog bowl may be a nice addition to your home, but it doesn't end there, you'll probably want to put said bowl onto a matching gingham placemat so your pup can dine with elegance and style. These sweet items, and many more, can all be found in the Paw & Tail collection.
JCPenney has been in business for 117 years, and as you may have heard, they've been having a bit of a tough time recently. The department store sales dropped 9 percent in the second quarter of 2019 and earlier this year, it announced plans to close 27 stores in 13 states, according to reporting done by Business Insider. All may not be lost for the retailer, who clearly knows that humans are borderline (mmm, okay full-blown) obsessed with their pups, and have given us pet products we didn't know we needed.