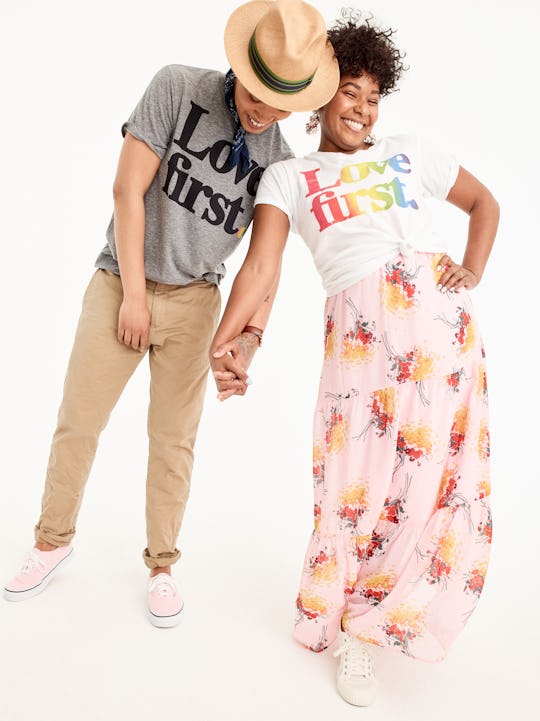 Courtesy of J.Crew
You're Going To Fall In Literal Love With J.Crew & Madewell's Pride Shirts & Accessories
In celebration of Pride Month, plenty of organizations are rolling out the rainbows. In fact, both J.Crew and Madewell are celebrating Pride with a new line of shirts and other goods, and the designs are fantastic. Plus, the sales from these shirts and totes support a very worthy cause.
Created in collaboration with the Human Rights Campaign (HRC), the new shirts, socks, and totes at Madewell and J.Crew celebrate love in all its forms. And as an added incentive, 50 percent of the purchase price of the rainbow T-shirt and tote from Madewell, as well as the love first tees and socks from J.Crew, will be donated to the HRC. If you're inspired, then you can find all of the products in stores, at J.Crew's official website, on Madewell's official website, and on the HRC's online store.
The leaders of both organizations appear to have nothing but love for one another. "At a time when LGBTQ people remain at risk of being fired, evicted or denied services in 31 states simply because of who they are, our fight for full LGBTQ equality is as urgent as ever. As we mark Pride month, we're excited to launch this collaboration with J.Crew and Madewell in support of the LGBTQ community, and to promote love, respect, inclusivity and equality," HRC President Chad Griffin shared on the organization's website.
For his part, the CEO of J.Crew also supports this partnership wholeheartedly. "There has never been a more critical time to support the Human Rights Campaign," echoed J.Crew Group CEO Jim Brett. "Chad and his team represent our strongest front in the everyday fight for equality. I've always believed that the best way to affect change is to be part of that change."
As the largest national civil rights organization that supports lesbian, gay, bisexual, transgender, and queer people, the Human Rights Campaign works to ensure equal rights and safety for all people of the LGBTQ community. With over 3 million members, the organization aims to educate the public about LGBTQ issues and encourage the use of inclusive policies. And HRC's logo, a yellow equal sign on a blue background, has been a symbol for equality since 1995. Chances are, you've seen it all over social media whenever LGBTQ issues are in the news. The HRC is a major cultural force in America today.
A major American retailer founded in 1983, J.Crew is famous for its stylish cardigans and passion for colorblocking. Meanwhile its sister brand, Madewell, is still growing by leaps and bounds, with sales up 39 percent in the first quarter of 2018, as noted by Fashionista. Especially in a market where many retailers are flailing, Madewell's steadfast growth is heartening. Hopefully its collaboration with HRC will only mean good things for both organizations.