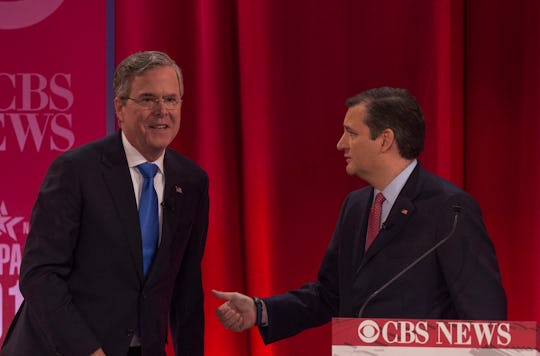 JIM WATSON/AFP/Getty Images
Jeb Bush Endorses Ted Cruz To "Overcome The Divisiveness & Vulgarity" Of Trump
Former Republican presidential hopeful and Florida Gov. Jeb Bush formally endorsed Texas Sen. Ted Cruz as his pick for president on Wednesday, but the endorsement seems less pro-Cruz and more anti-Trump. In his statement, Bush called Cruz "a consistent, principled conservative," but that's where the compliments ended. Bush then said that Cruz is the Republicans' best hope to "overcome the divisiveness and vulgarity Donald Trump has brought into the political arena" and go on to defeat Democratic frontrunner and former Secretary of State Hillary Clinton. He also had a few choice words about "radical Islamic terrorists" and, of course, President Barack Obama.
Unfortunately for Cruz, this endorsement doesn't read as sincere praise of the senator, or even a vote of confidence for his presidency, but more of an acknowledgement that he's the lesser of two (or more) evils. As Reuters pointed out, it's still within the realm of possibility that Cruz "could conceivably win enough Republican delegates to take the nomination," whereas Ohio Gov. John Kasich, with just 143 delegates and only one primary win, will honestly just never be president. Why he's still staying in the race is anyone's guess, but the fact is that voters are more likely to see "fetch" happen than they are to elect Kasich.
So for those who shudder at the thought of a Trump presidency, and also don't want to see Clinton back in the White House, the choice is Cruz (apologies to my very enthusiastic Facebook friends, but I really don't think Vermont Sen. Bernie Sanders is going to happen, either). Bush endorsing Cruz is basically the equivalent of going to a friend's house and being offered kombucha, grapefruit juice, or white zinfandel. Now, I certainly don't endorse white zin (and haven't since I was 22), but it's the only one of the three that I can choke down without actively gagging or making or horrid face, so white zin it is. Ted Cruz: the Franzia of candidates.
The endorsement undoubtedly stings Florida Sen. Marco Rubio a bit; the junior senator once looked up to Bush as both a friend and mentor, and an endorsement from the former governor could have really gone a long way in their home state of Florida, where Rubio lost to Trump in the March 15 primary before finally dropping out of the race. A source told Politico that "Jeb came to believe Marco was not up to the job of being President. It was never really under serious discussion." Ouch.
So now Cruz finds himself in the awkward position of receiving endorsements from people who really don't care for him all that much, such as South Carolina Sen. Lindsey Graham, who went from joking about murdering Cruz to fundraising for him less than a month later. What a strange time to be alive.