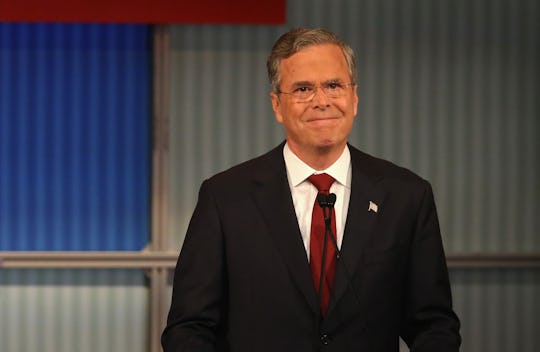 Jeb Bush Says He Wants A Woman As His Running Mate, But It's Probably Not Enough To Save His Campaign
Republican presidential candidate Jeb Bush might still be trailing in the polls, but that hasn't kept him from thinking ahead to a possible win. At a campaign stop in Iowa Tuesday night, Bush said he'd choose a woman as vice president — or, at least, you know, that he'd consider it. In a totally-on-purpose "slip of the tongue," he mentioned his hypothetical running mate, telling the crowd that "she will be a great partner." After pointing out his use of the female pronoun to describe his running mate ("I mean, did I say that out loud?"), Bush went on to explain that the assumption that the vice president would naturally be male should be totally outdated by now, arguing that "we've reached the point I think in our country where maybe we should be a little less gender-specific about this."
Bush stopped short of saying that he would specifically choose a woman though — all he really committed to was that he'd pick the most qualified person, regardless of gender. It definitely wouldn't be the first time a GOP candidate chose a female running mate, if he did (how could we ever forget Sarah Palin?), and of course, both parties have women vying for a presidential win right now.
Bush's comments still matter, but they probably won't make much of a difference to his campaign success, for these five reasons: