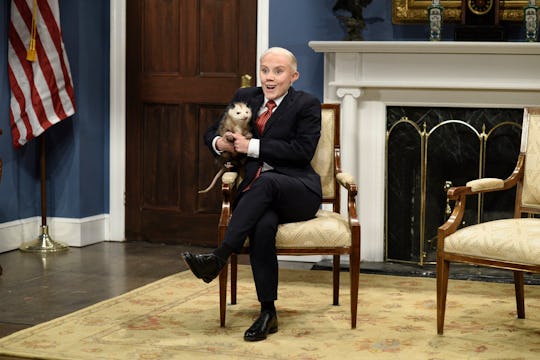 Will Heath/NBC
'SNL' Takes Elf On The Shelf To A Whole New Level Of Hilarity
In the Saturday Night Live cold open on Saturday, Alec Baldwin as Donald Trump proudly proclaimed that the war on Christmas is over, so we can officially start saying Merry Christmas again. And the Trump administration decided to celebrate in the most Donald Trump way, including with a miniaturized Kate McKinnon doing one of my all-time favorite impressions. Jeff Sessions as Elf on the Shelf is the SNL parody we all needed this holiday season.
The skit opened with Baldwin and Cecily Strong as Melania Trump in the process of decorated their Christmas tree — the "Loser Tree" to be specific. This meant adorning their holiday tree with ornaments bearing the faces of their fallen enemies. Trump chose former head of the FBI James Comey, who Trump had to fire because he "knows all my secrets." The skit then brought out pretty much every political character the show has parodied this year, including Aidy Bryant as Sarah Huckabee Sanders, who added Spicer and Scaramucci, whose "mangled corpses" she climbed over to get to her position. The sketch even included Scarlett Johansson reprising her beloved impression of Ivanka Trump, who remembers fondly that one time she heard her husband Jared actually speak.
But, as usual, Kate McKinnon's impression of Jeff Sessions was the best part of the political skit — this time made even more hilarious by making Sessions the Elf on the Shelf. The Elf on the Shelf is a tradition in which parents put a small toy elf somewhere in the house and tell their children that the elf is watching their every move and will report on their behavior back to Santa. It is one of the creepier holiday traditions that I've ever heard of, making it pretty much a perfect way to describe Sessions. And the internet agreed.
McKinnon's impression of Sessions has become one of the most hilarious regular parodies on the show. According to McKinnon, the Attorney General is more imp than actual human politician, speaking with a tiny, squeaking voice and hanging out on Trump's lap, occasionally with a pet ferret. But on the last episode of Saturday Night Live before Christmas, the impression took it one step further by making Sessions out to be a literal elf.
During the sketch, Trump's sons Don Jr. and Eric (not Derek) appeared, with a whole list of people to add to the annual Trump "Loser Tree." Junior reminded Eric to watch his behavior because the Elf on the Shelf was watching, pointing to a tiny McKinnon dressed in a bright red onesie, and the white wig she wears when impersonating Sessions. It was perfect.
"Whether your Christian or Jewish or... that's it," she said in a heavy Alabaman drawl, "we can all agree it's gonna be a Merry Christmas!" Baldwin's Trump asked worriedly if Sessions has been secretly recording what happens in the Oval Office, to which a delighted Sessions replies, "Oh don't worry. I will not snitch because I do not recall who's been naughty or who's been nice," a reference to his answers during senate hearings, in which he apparently did not recall anything related to Trump's possible contacts with Russia. All that McKinnon's Sessions recalls is a simpler time, "when you were judged not by the color of your skin... oh wait no you were judged by the color of your skin."
As for Sessions' contribution to the "Loser Tree," it was the angel that goes on top, with Robert Mueller's face because "he's next." As Sessions says, you have to cut the head off the snake and he should know because "I'm a mischievous little mongoose." So thank you again, McKinnon, for being one of the best parts of SNL.
Check out Romper's new video series, Romper's Doula Diaries:
Watch full episodes of Romper's Doula Diaries on Facebook Watch.