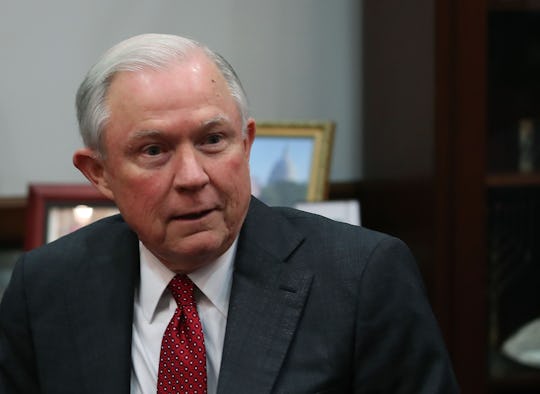 Mark Wilson/Getty Images News/Getty Images
Jeff Sessions' Ethics Paperwork Is Incomplete
Alabama Sen. Jeff Sessions begins what promises to be a contentious hearing on Tuesday for confirmation to serve as President-elect Donald Trump's Attorney General. Opponents to Sessions' appointment have voiced their concern about his record on civil and women's rights. But new revelations about his failure to disclose a potential red flag on his ethics paperwork could open up a whole new line of attack from his detractors. Jeff Sessions' conflicts of interest were reportedly omitted from his ethics disclosure paperwork, which could complicate Sessions' already controversial confirmation hearings even further. Sessions' office has not responded to Romper's request for comment regarding the conflicts of interest.
According to the Washington Post, Sessions failed to disclose his ownership of oil rights on a 600-acre plot of land in Alabama, which sits adjacent to a federal wildlife preserve, to the Office of Government ethics. Sessions could be involved in decisions about the future of that federal preserve in his role as Attorney General. The failure to disclose this fact raises red flags for ethics experts already sounding the alarm about the rush to confirm several Trump administration appointees without the necessary background checks and disclosure paperwork in place.
The land doesn't currently make Sessions a lot of money — less than $5,000 in revenue, according to the Post. But it adds to the narrative from Democrats in Congress that the Trump Administration is trying to rush through several Cabinet appointees without thorough vetting.
Despite objections over Sessions' civil rights record, the Judiciary Committee, which has long included Session as a colleague, is expected to confirm his appointment, according to CNN. But Sessions can expect tough questions from Democrats about his past, including his failure to get confirmed by the same panel in 1986 for a job as a federal judge, according to CNN, as the result of allegations of racism. Sessions' office has not responded to Romper's comment regarding the racism allegations.
Each Cabinet appointee is required to submit to an FBI background check, a financial disclosure, and a letter clearly stating any conflicts of interest, which is then checked by the Office of Government Ethics, according to PBS. The director of the OGE, Walter Shaub, sent a letter to Senate Minority Leader and New York Sen. Chuck Schumer explaining his concerns about what a rushed or incomplete ethics review could mean to the incoming administration, PBS reported. Schaub wrote:
...the announced hearing schedule for several nominees who have not completed the ethics review process is of great concern to me. More significantly, it has left some of the nominees with potentially unknown or unresolved ethics issues shortly before their scheduled hearings. I am not aware of any occasion in the four decades since OGE was established when the Senate held a confirmation hearing before the nominee had completed the ethics review process.
Trump's appointee for Education Secretary Betsy DeVos' hearing, which was originally scheduled for Jan. 11, has been postponed to Jan. 17 to allow more time for her to complete ethics disclosure paperwork, which as of Tuesday was still incomplete, according to Roll Call.
"Jamming all these hearings into one or two days, making members run from committee to committee makes no sense," Schumer said about the confirmation hearings, according to PBS. "Even if it takes a few weeks to get through them all in order to carefully consider their nominations, that is well worth it."
The OGE told PBS some of Trump's appointees have not filed any of their necessary ethics paperwork. Perhaps criticisms of Sessions' failure to properly disclose his conflict will serve as a lesson for other Trump appointees about the importance of a thorough ethics review before hearings take place. At the very least, it could save them from avoidable public embarrassment.