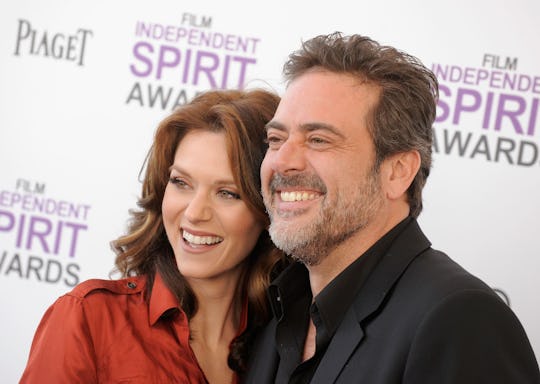 Jordan Strauss/Getty Images Entertainment/Getty Images
Jeffrey Dean Morgan Is Nothing Like Negan In Adorable Pic With Daughter
For those who are familiar with The Walking Dead, the character Negan is someone fans all love to hate. Sure, as a villain, he does some pretty terrible things. But you have to admit, his liberal use of profanity and twisted sense of humor is endlessly entertaining. Although it may be difficult for some die-hard fans to separate Negan the character from Jeffrey Dean Morgan, the actor who portrays him, the two couldn't be more opposite. In fact, Jeffrey Dean Morgan's daughter thinks her dad is magic in this adorable Instagram pic — and you might never see Negan the same way again.
On Saturday, Oct. 20, Morgan took to Instagram to share an adorable pair of photos of himself holding his baby girl. In the top photo, father and daughter are both faced away from the camera. In the bottom photo, however, a happy baby girl is peeking over her daddy's shoulder with the biggest smile. Morgan captioned the post with, "George is pretty sure her dad is magical. xojd&george." Morgan's followers promptly melted into puddles of "awwww." One Instagram user wrote, "Stop it right now with that smile! Lol. She's beautiful! ❤️"
Another person commented, "This picture is all kinds of magical ❤️."
Yet another Instagram follower chimed in with, "Omggg i'm dyingggg, she is the cutest💖💖."
As ET Online reported, Morgan and his wife Hillarie Burton welcomed their second child back in February. (The couple also has an 8-year-old son, Gus, who was born in 2010.) Burton took to Instagram to announce their daughter's name — George Virginia Morgan — and to share about their long journey toward becoming second-time parents, according to People. "There's something I really want to say to all the women out there who are trying," Burton captioned an adorable collage of photos of baby George. "It took a long time for Jeffrey and I to have this baby. The first time I got pregnant, it took a year and a half. I surprised him on Christmas with baby Seahawk booties. We cried. We celebrated. We picked out names. And we lost that baby."
Burton went on to explain that more pregnancy losses followed, and that every time she'd see yet another celebrity pregnancy announcement, it would hurt a little bit more. "I'd weep out of jealousy for how easy it was for them. Didn't they know something could go wrong? Didn't they know that there were other women out there struggling?" she wrote. "It pained me to see the corporate sponsored baby showers and magazine covers capitalizing on this human miracle that wasn't happening for us."
Burton continued:
So when this pregnancy started, we were cautious. I didn't want to celebrate for fear of jinxing it. I didn't want a baby shower. I checked her heartbeat every day, up until the day she was born. And now that she is here, I just stare at her in wonder all day. I see her in her daddy's arms and I don't take any of it for granted. She screams bloody murder and I smile because she is so wildly alive.
During an appearance on Jimmy Kimmel Live not long after his daughter's birth, Morgan opened up about how he had helped deliver both of his children during his wife's all-natural births. "I wasn't prepped for this at all; no one said, 'You're going to catch the baby.' And so the midwife kind of moved aside and said, "Get on in there,'" Morgan said of his son's 2010 birth. "And I kind of panicked. I didn't know what to do. And I started seeing Gus's head coming out, and I dropped the ball, essentially. And he had a little bit of a cone head for a while. He got sort of stuck in that no-man's land."
However, when his daughter was born in February, Morgan didn't make the same mistake twice. "With George, knowing what I knew — and by the way, Gus's head is perfectly round and wonderful — but George started coming and the doctor and midwife moved aside and I grabbed her by her little cheeks and had her out in like, 3 seconds."
Whoa. What a bad*ss father.
So yeah. Although Jeffrey Dean Morgan is brilliant in The Walking Dead, the baby-catching, doting father is decidedly not Negan in real life. And thank god for that.