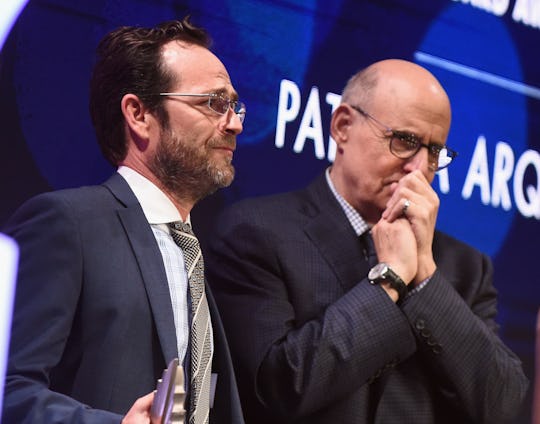 Emma McIntyre/Getty Images Entertainment/Getty Images
Jeffrey Tambor Discusses Trans Kids, Progress & Trump
Though there was plenty of celebration elsewhere, the evening of Nov. 8, 2016 was a dark night for many across America. While the majority of the country expected to see the election of America's first female president, they were at a loss when Donald Trump won the Electoral College vote instead. And while there have been broken hearts since that fateful night, Americans are, in a sense, becoming stronger. With the Women's March on Washington and the upcoming March for Science joining a swell of protests since the election, it's becoming increasingly clear that no one is letting their voices be silenced anymore. Indeed, even Jeffrey Tambor says trans kids are telling him their stories more than ever, largely because of Trump's victory.
Speaking with People at the GLAAD awards Saturday evening, Tambor explained that he feels like he — along with his costars and others in Hollywood dedicated to diverse representation — is on the right side of history. He said that he feels "heartened" about the future of the United States, explaining that more and more stories are being shared about trans people and their journeys, and that they matter.
"People are starting to tell me about their kids who are transitioned," he stated. "I hear that story more and more and more." In its own way, Tambor explained, that's progress.
Tambor has been the recipient of Emmy, Screen Actors Guild, and Critics Choice awards for his portrayal of Maura Pfefferman, an older transgender woman, in Amazon's series, Transparent. And it seems that his role has meant a lot to many people who have brought their own stories of transitioning to him, in order for their voices to be heard.
"Maybe that had been going on and had been kept in secret, but I seem to be hearing it more and more and more, and I couldn't be more heartened by it," he said of being told about young trans kids' stories. And with the Trump administration's handling of protections for transgender students, Tambor's comments are a welcome distraction from the ramifications of a Trump presidency.
While Tambor himself is not transgender, he thinks that his role on the show has helped him understand the struggles that trans Americans face on a daily basis. "Forget the career, forget the show – I think it's allowed me to be more me than I've ever been," he explained. "I know it's made me a better parent. It's made me a better citizen."
Even though there are a number of trans bathroom law suits currently being fought in the United States, and plenty of reason to be worried that President Trump and his Republican colleagues might reverse or stall important legislation protecting the transgender community, Tambor's statements are a reminder that, while everyday may feel like a battle, the fight is worth it.