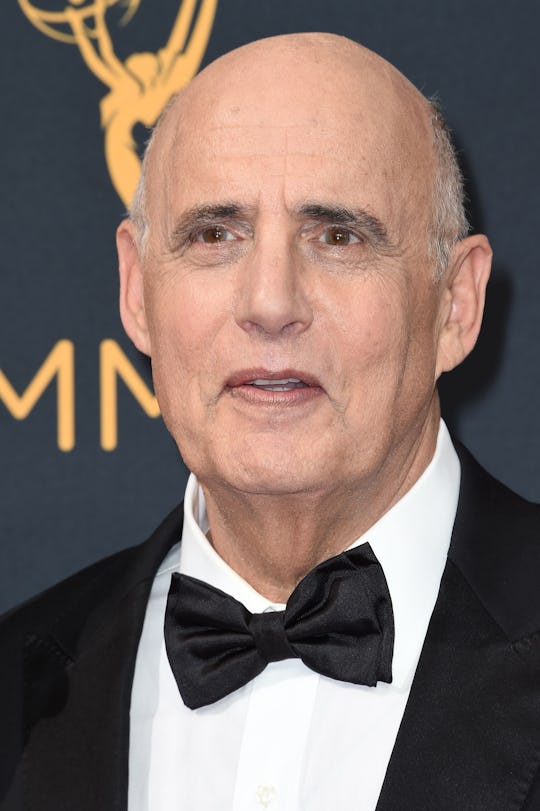 ROBYN BECK/AFP/Getty Images
Jeffrey Tambor Shuts Down The 2016 Emmys Band To Say Something Incredible
The Emmys are never short on inspiring quotes from winners and nominees alike, but tonight's most heartwrenching moment may very likely have been when Jeffrey Tambor shut down the 2016 Emmys music to say something incredibly important on behalf of the transgender community. Tambor's speech began with a nod to his fellow nominees: "May I be very, very clear about something? There is no best actor, alright? I'm so honored to be in this category with these artistic killers." But, that wasn't all he had to say.
Toward the end of his acceptance speech for Outstanding Lead Actor in a Comedy Series at Sunday night's awards show, Tambor interrupted his cue to wrap his speech to issue a call to action for his fellow cisgender colleagues by saying the following:
"I'm not going to say this beautifully, but to you people out there, you producers and you network owners and you agents and you creative sparks, please give transgender talent a chance. Give them auditions. Give them their story. Do that, and also, one more thing: I would not be unhappy were I the last cisgender male to play a female transgender on television. We have work to do. I love you."
Tambor's award was earned for his portrayal of Maura Pfefferman on the Amazon comedy series Transparent. This is the second year in a row that Tambor has been nominated and took the night's honors in this category at the Emmys, and also for the second year in a row he used his acceptance speech to thank the transgender community. In his 2015 acceptance speech, Tambor wrapped by saying, "Not to repeat myself, but to specifically repeat myself, I'd like to dedicate my performance and this award to the transgender community. Thank you for your patience. Thank you for your courage. Thank you for your stories. Thank you for your inspiration. Thank you for letting us be part of the change."
Fans of the actor and supporters of the transgender community reacted on Twitter with a round of praise for Tambor's comments, while others echoed his plea to be the last cisgender male to portray a transgender woman in a Hollywood role.
One series of tweets, however, from the creator of the Emmy-nominated series Her Story Jen Richards, shared Tambor's vision for the future of transgender actors playing transgender characters:
Later in the evening, presenter Laverne Cox echoed Tambor's sentiments when she addressed the audience by saying, "Give trans talent a shot. I would not be here tonight had someone not given me a shot."
Tambor is a known ally for the trans community, and his speech at the Emmys proved just how powerful his words can be. Hopefully by next year, Cox and Tambor's wishes will come true, and there will be an even greater representation of the trans community in Hollywood.