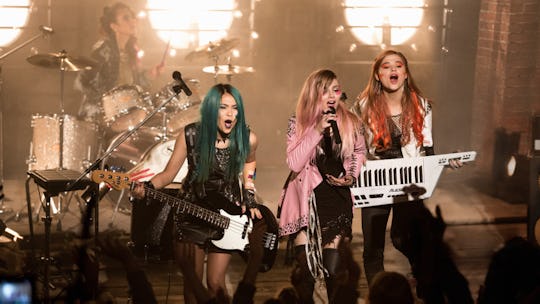 JemTheMovie.com
'Jem And The Holograms' Reboot Pulled From Theaters After Low Ticket Sales, & It's A Hard Pill To Swallow For Fans Who Loved The Original
Well, that was fast. Those of us who grew up in the 80s were kind of excited to see a film adaptation of Jem and the Holograms, a cartoon about a girl named Jerrica Benton who turned into her way-cool alter ego Jem to perform with her best friends in a band called the Holograms. Jem was like the Hannah Montana of our time, so a movie adaptation should have prompted all kinds of nostalgia. But after little more than two weeks in theaters, the long-awaited film reboot of Jem and The Holograms has been pulled by Universal as a box office failure — and the reason the film tanked is pretty inexcusable.
The plot of director John Chu's live-action Jem and the Holograms seemed simple enough: teen singer-songwriter Jerrica Benton goes from relative obscurity to internet stardom when a video of her performing becomes a viral hit on social media. The clip attracts the attention of a scheming music mogul who promises Jerrica (and her band) actual stardom. Jerrica and her team become Jem and The Holograms. Everything goes great for a while, until Jerrica realizes that the price of fame is that she must abandon her friends, family, and principles.
The problem is, that plot is nearly unrecognizable to fans to the original cartoon. Sure, the clothes, makeup, and music are all there, but some of the basic plot points weren't. I mean, Jem being the founder of Starlight Music was kind of a central point: her rivals at Misfit Music were usually plotting to get their hands on her business.
Speaking of central points, the movie version skipped Jem's sci-fi roots, too. In the cartoon version, Jerrica transformed into Jem with help from Synergy, "the ultimate audio-visual entertainment synthesizer." Built by Jerrica's dad before his death, Synergy used hologram technology to create Jem (and help the band through some serious action sequences). Keeping Synergy from falling into the wrong hands kept Jerrica pretty busy.
With so few science fiction projects targeted to girls, that seems like a pretty big miss.
The teen film cost Universal upwards of $5 million to make, but pulled in only $2 million after its second week. Since the movie was released on more than 2,400 screens, that averaged out to only $545 per screen, making Jem and the Holograms not just one of the worst films of the year, but one of the worst opening weekends of the past 30 years.
Oh, Hollywood. When will you learn that certain childhood memories just need to be left alone?
Image: JemTheMovie.com