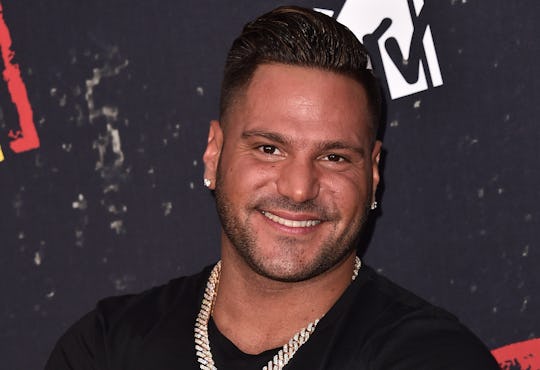 Alberto E. Rodriguez/Getty Images Entertainment/Getty Images
Jen Harley Speaks Out On Her Breakup With Ronnie Ortiz-Magro, & It's Heartbreaking
It's been a dramatic few weeks for a certain Jersey Shore star and his girlfriend, but it appears that their relationship may have truly come to an end, based on Jen Harley's comments about her breakup with Ronnie Ortiz-Magro. The public had a front-row seat to the breakup, which unfolded in Instagram Stories that the pair posted on Sunday and Monday. Keeping it on-brand, Harley posted the final chapter on Tuesday, according to Us Weekly. Harley's latest Story bore the phrase "My heart hurts," accompanied by a sad emoji. By Wednesday, her account had returned to business as usual, featuring a photo of her 1-month-old daughter with a cat-ears filter.
Some Jersey Shore fans believe that the impetus for the breakup was a recent episode of the reunion show, Jersey Shore Family Vacation. During the episode, which aired last Thursday, Ortiz-Magro was locked in a bathroom with a woman he brought home from a nightclub while Pauly "DJ Pauly D" DelVecchio stood outside the door pleading, "Ronnie, it's not worth it," according to Cosmopolitan. Ortiz-Magro later claimed he was "just talking" with the woman, but he also told DelVecchio, "As soon as you knocked on the door I was like, 'This is not a good move.' It felt so good, though." Ortiz-Magro did not immediately respond to Romper's request for comment.
The cheating rumors began even before the episode aired, thanks to nightclub footage that was included in promotional videos. In March, Ortiz-Magro denied cheating in an interview with Us Weekly. He also said that it was all for show, and Harley was well aware of what to expect:
Our lifestyle is going out and going to clubs, whether it's off camera or on camera. So there are situations you put yourself in, and I put myself in a lot of weird situations you're going to see throughout the season, but I never follow through with anything.
The same episode also features some dialog that would make any recently postpartum woman furious. Nicole "Snooki" Polizzi asked Ortiz-Magro why he hadn't married Harley, who was then seven months pregnant, and accuses him of holding a torch for his ex, fellow original cast member Sammi "Sweetheart" Giancola, the only one who didn't return for the reunion. Ortiz-Magro didn't exactly deny it, according to Cosmo, saying that he missed the "security" he felt when he was with Giancola, and adding that he didn't trust Harley. Later in the episode, he also referred to Giancola as "the love of his life," and said "it hurts" that he didn't end up with her. Ouch.
The episode came out just over three weeks after Ortiz-Magro and Harley welcomed their first child together on April 3, a daughter named Ariana Sky. Harley also has an 11-year-old son, Mason, from a previous relationship, according to E! Online. The public brawling began on Sunday, with Ortiz-Magro posting, "Note to self, can't turn a natural born HOE, into a HOUSEWIFE, if you find them in the gutter then leave them in the gutter," according to The Cut. Harley responded with her own post, "You can't turn a coke head into a father." Ortiz-Magro then followed up with what appeared to be a veiled threat to send explicit footage of Harley to her son. He later apologized, and things seemed to die down.
Then, on Monday, Ortiz-Magro took to Instagram again for a live video that seemed to show a physical altercation between himself and Harley, and later apologized for that, as well:
I want to apologize to my family, friends and fans. This is a private matter that should have never been made public. I remain focused on my daughter and she is my number one priority.
Ortiz-Magro didn't respond to Romper's additional request for comment regarding the alleged physical altercation.
Let's hope that both he and Harley remain focused on their child, and find an amicable way to coparent her.