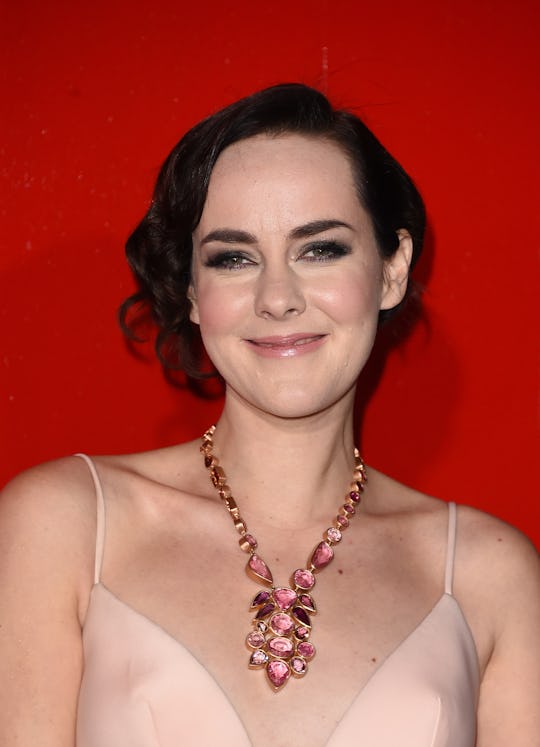 Jason Merritt/Getty
Jena Malone Is Pregnant, & 'Hunger Games' Fans Are Super Excited
She's one thoughtful mama-to-be! Hunger Games actress Jena Malone is pregnant with her first child with partner Ethan DeLorenzo, according to People, and they've both taken to Instagram to share the happy news. Calling DeLorenzo her "beautiful hearted baby daddy," Malone posted a photo he took of her outside wearing a white dress and rain boots, cradling her belly. In the caption, Malone waxed poetic (no seriously, she wrote a poem) about her pregnancy, sharing "words [she] wrote years ago" that seem entirely fitting again now that she is going to be a mother:
Womb to womb, To beating wing, I climbed out of the eternal, And into the shape of me...The shape your desires make out of you. The body you become to hold your dreams. It's with two feet firmly on the ground and a heart swelling in an ocean of love that I'd like to share the new shape I am becoming to hold the greatest dream of them all. #babybump #newparents.
Photographer DeLorenzo also shared some snaps of Malone — who is a popular subject on his Instagram account — and her burgeoning bump. While it seems that they have only just openly announced the pregnancy, DeLorenzo alluded to their baby-on-the-way in another photo of Malone five weeks ago, which he captioned, "population 2.5."
The sweet couple seem thrilled by the news of their impending arrival — Malone recently posted another photo of the two of them together, which she captioned, "Head over heels. Literally. With my one and only."
Malone isn't the first Hunger Games cast member to announce a pregnancy — Sam Claflin and his wife just welcomed a boy in December, according to E! News. And fans seem pretty psyched at a potential Hunger Games baby boom:
Congratulations, Jena and Ethan. Here's hoping that more gorgeous pregnancy shots will be coming our way soon.
Images: Jason Merritt/Getty Images; Jena Malone, Ethan DeLorenzo/Instagram