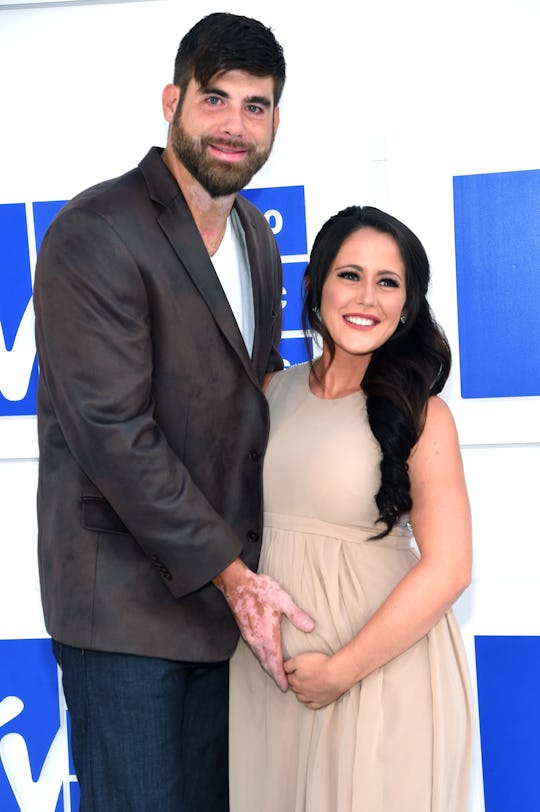 Jamie McCarthy/Getty Images Entertainment/Getty Images
'Teen Mom 2' Star Jenelle Evans Is Engaged!
It has been one very exciting year for Teen Mom 2 star Jenelle Evans — and it's only February. In January, Evans welcomed her third child, and now, she has even more happy news. Late on Saturday, Jenelle Evans announced she was engaged to David Eason, her partner of just under a year and a half, and the father of her newborn daughter, daughter Ensley Jolie. 2017 is off to a pretty wonderful start for the 25-year-old, it seems.
Even though Valentines Day is just two days away, romance is already in the air — and Evans and Eason got an early start on the holiday with their engagement. Evans took to Instagram late on Saturday to share the news with her fans, who have been watching the 25-year-old since she was just 17 years old on MTV's second season of 16 and Pregnant. In the photo, Evans shows off the brand new ring on her finger and a dozen red roses while Eason sweetly kisses her head. "We've decided on forever! #PerfectTiming," Evans wrote in the caption of the photo. And indeed, this could not be more of a perfect time for the couple — as 2017 is proving to be great for the two of them.
Eason shared a close up photo of the beautiful ring on his own Instagram account. "I want to make a lifetime full of memories with you, babe," Eason wrote in the photos caption. Seriously, they could not get any sweeter.
In August 2016, just a few days after announcing that she and Eason were expecting their first child together, Evans shared her hopes for the future with Eason but that she didn't expect to become pregnant, just yet, according to Us Weekly:
We talked about it and he was like, "Do you want to have any more kids in the future?" And I said, "Yeah, but after we get married, after we have the house and after everything calms down and we're in the new house."
Although her timeline may have gotten a little out of order, it seems like things are still going according to plan — Evans and Eason are now going to get married — even if the baby did come before everything else. The couple welcomed baby Ensley into the world on Jan. 24, according to People.
The couple look like they cannot be any happier about their new baby and their engagement. Congratulations to the very happy couple on the start of one very exciting year.