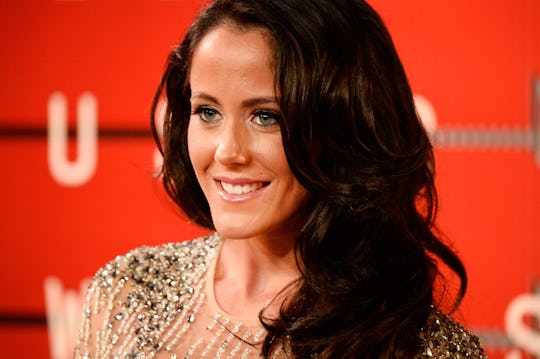 Frazer Harrison/Getty Images Entertainment/Getty Images
Jenelle Evans Pulled A Gun Out In Her Car With Her Son, Jace, Present
It's no secret that MTV has a reputation for its dramatic — and occasionally even violent — TV shows. And Teen Mom is certainly no exception. In fact, a fair amount of cast members of the popular reality show have had run-ins with the law at one point or another. Whether it's for drug possession, domestic violence, assault, or theft, a steady stream of mug shots makes for entertaining TV, right? (*Eye roll*) Well this time, things got intensely scary with one of the moms — and, unfortunately, a violent series of events unfolded in the presence of her child. That's because Jenelle Evans pulled out a gun in front of her son on Teen Mom, and fans are absolutely horrified. Romper has reached out to MTV for comment, but did not immediately hear back.
As People reported, Evans was driving in Bolivia, North Carolina, on April 26 with her 8-year-old son, Jace, when she allegedly pulled out a gun during a disturbing road rage incident. The episode itself aired Monday on MTV. However Us Weekly has managed to also obtain audio of Evans' 911 call to the Brunswick County Sheriff's Office — during which she told the operator she was being tailgated by a male driver. "He's been tailgating me the whole time in traffic — would not stop — and then he races in front of me and purposely slammed on the brakes at 70-something miles an hour," she said during the call. "I almost got veered off the side of the road. And now this guy is trying his hardest for me not to be behind him anymore. He is literally going crazy, swerving in and out of lanes."
Evans continued:
He made me slam the brakes so hard that my phone went flying. My son … his head almost got whiplash and almost hit the dashboard.
As TMZ reported, Evans ultimately decided to follow the male driver when he turned off the highway. The highly agitated MTV star followed the white truck to the driver's home, and as she did so, she could be seen leaning forward to pull out a handgun and place it on her lap — as Jace watched. "If he tries to get out and hurt you, I can get out this nerf gun and whip him," Jace told his mom at the time. (Ahh, what?!)
When Evans stops her car after arriving at the man's house, she can be seen yelling, "You were tailgating me, you dumb*ss!!" TMZ reported. In the video, Evans accidentally backs into the other driver's mailbox — prompting him to get back into his vehicle and make contact with hers. That, allegedly, is when she pulled her gun — although MTV did not show footage of this, according to TMZ. Due to conflicting stories and lack of witnesses, neither driver was charged as a result of this road rage incident, People reported.
But Teen Mom fans are still seriously pissed about Evans' behavior, nevertheless. "She went from Betty Bad *ss to sobbing victim REAL quick," one Twitter user wrote. "#poorjace is the ONLY victim in all of this road rage drama. Jenelle Evans is a piece of sh*t and should have her CCW permit revoked for that stunt, and be indicted for improperly handling a firearm in a MV."
Another person tweeted, "Can someone explain to me why the f*ck @PBandJenelley_1 thought it was a good idea to follow this man with her CHILD in the car?! Why tf would you put your child in danger?!
Yet another Twitter user chimed in with, "I would never say this lightly, but I truly feel Jenelle Evans is an unfit mother especially after that road rage incident with her son. It is not okay to put your childs life in danger like that someone do something before it's too late!"
Of course, this isn't the Teen Mom star's first violent outburst/run-in with the law. Still, there's something about a mom going off the rails in a fit of road rage — going so far as to follow the driver to his house and then allegedly brandishing a gun at him — in the presence of a child that makes this particularly upsetting. As angry as Evans was about some jerk cutting her off, her decisions potentially put her son in danger. And it's clear that fans feel very strongly: This is definitely not okay.