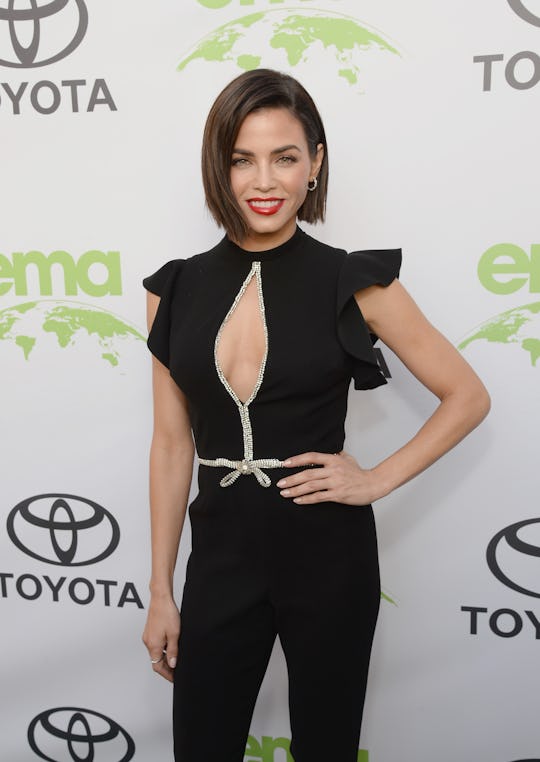 Michael Kovac/Getty Images Entertainment/Getty Images
Jenna Dewan Shares How Her 5-Year-Old Daughter Is Inspiring Her To Be More Eco-Friendly
Considering she is a vegan, it's clear that environmental causes are close to Jenna Dewan's heart. However, her daughter Everly is schooling her on plenty of other ways to respect Mother Earth. Jenna Dewan recently shared how her daughter is pushing her to be more eco-friendly, and it's so cool that she's already an eco goddess at such a young age.
Tuesday evening, the dancer and actress attended the Environmental Media Association's EMA Awards and Honors Benefit in Beverly Hills, California. The EMA is a nonprofit with a mission of promoting environmental progress that often works with celebrities and other influencers, according to its website. At the benefit, Dewan opened up about her daughter's newest undertaking while chatting with People.
"She goes to a 'fairy' camp," Dewan told the publication about Everly, who turns 5 later this month, "which sounds really 'girly' but it is actually very 'Girl Scout-y.' They go into the parks, and they learn all about how to be respectful to nature."
Everly has clearly taken the lessons from "fairy" camp to heart, given that she's been encouraging her mom to recycle more. "She'll tell me, 'Mommy, you need to recycle that,' or, 'Be careful, don't disrespect nature!'" Dewan told People. "It starts young. She's only 4 and she already has that instilled in her, so I think I'm doing something right."
Plus, Dewan often encourages Everly to connect with nature. In addition to sending Everly to several different nature camps, the family also goes on nature-centric vacations, as reported by People. "We do a lot of things in nature," Dewan told People. "She goes to a lot of different camps where she is learning about nature, where she is with the trees, and we go on vacations, and we do trips just within nature." Dewan seems to love Everly's newfound environmental enthusiasm. "I think learning early to respect [the outdoors is important]," the celebrity mama added.
Dewan eats a mostly vegan diet, and she is raising Everly as a vegetarian. (Reducing animal consumption has many environmental benefits, studies show, as TIME reported.) She opened up about her family's diets in an interview with Health this past February, telling the magazine:
I eat mostly vegan, but I'm very accommodating, maybe because I've lived with a man for 11 years who's not vegetarian. Evie is a vegetarian, mostly because I cook for her and it's what I feel to be healthy for her and easiest. She loves it and wears it like a badge. She will tell everyone, 'I'm a vegetarian. I don't eat meat,' and I tell her, "Ev, you can try anything you want," but she's like, "Ugh"—very much a chip off the old block in that way. Chan will do meatless, and most of the time it's what I'm cooking. He'll do pasta, risottos, things that have a carb element.
(Sorry I didn't warn you about the Channing Tatum reference.)
In a 2016 interview with the Los Angeles Times, Dewan explained that one of the reasons she is a vegan is for the environment. "But I certainly encourage veganism, not just for our health, but for the environment and also for the ethical and moral reasons," she told the outlet. It's clear that Everly is following in her mama's footsteps — and not only when it comes to respecting the earth.
Last week, the dancer shared that her daughter had her first dance recital coming up — and Dewan was so excited. At an event in Las Vegas on Friday, she told People:
She's always into something. She's very distractible, but she does have her first dance recital coming up and I'm probably a little too excited, like I'm trying to contain my own excitement ... She's just excited about the costume.
It will be interesting to see what habit of her mom's Everly picks up next!