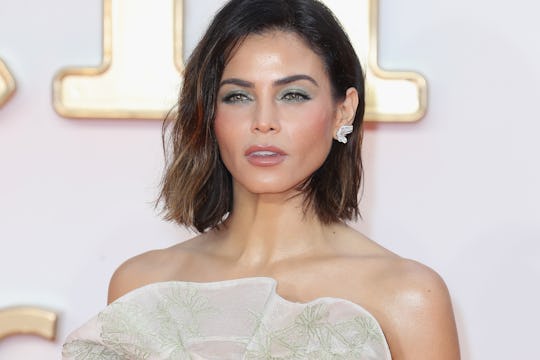 Chris Jackson/Getty Images Entertainment/Getty Images
Jenna Dewan Tatum Is Being Shamed For Her Lingerie Photos & The Reason Is Total BS
Everyone knows that all moms are good for is driving their kids to soccer practice and preparing elaborate three-course meals for their families every single night, right? And they do all of this wearing oversized sweatshirts and sweatpants or else they're simply bad moms and unfaithful spouses. Well, that's obviously light years away from the truth — it literally exists in a different galaxy from reality — but the BS reason Jenna Dewan Tatum is being shamed for her lingerie photo is enough to make you think we've slipped into another, exponentially more awful dimension. But the fact is that the mother of one 4-year-old daughter and celebrity dancer is sexy and talented AF, and her haters need to get out of her Instagram mentions yesterday.
It all started when Dewan Tatum posted an Instagram photo of her impromptu one-woman photoshoot she staged when she received a stunning pair of over-the-knee lace-up stiletto boots from Jennifer Lopez, whom she knows because because she hosts J.Lo's hit show World of Dance. (Can we just pause and marvel at the idea of being gifted a pair of $2,795 suede and leather boots from the Jennifer Lopez, from Lopez's own shoe collection???) Anyhow, it was a moment to document on the 'gram for Dewan Tatum, because duh.
"Only @jlo can make a girl drop everything, put her favorite bodysuit on and take a spontaneous random picture in her closet," Dewan Tatum captioned the post in part, going on to thank her costar for the boots, which are part of a collection co-designed by Giuseppe Zanotti.
It's hard to find any fault in this pic. It showcases two women appreciating each other, and Dewan Tatum looks fantastic. But the internet ghouls were ready with the insults, as is their custom.
One condemned Dewan Tatum as a "whore," another wrote her off as "vain," still another implored her to "please stop showing it to the world."
"DID CHANNING APPROVE OF THIS POST??" you could practically hear one commenter screech, referring, of course, to Dewan Tatum's husband and Magic Mike star. And then there was the kicker, courtesy of an Instagram user who goes by the handle @trishbutterss: "Unfollowing. She's a mother. No need for these posts."
And that gross comment came on the heels of the even more intensely mom-shamey admonishments that polluted Dewan Tatum's Insta mentions last month when she posted a similar pic of herself wearing heels and lingerie. Here's an infuriating sampling, courtesy of Us Weekly:
"She's a mother and married. Smh, disappointed at Jenna."
"Of course she is hot but poor Everly. What signals is she sending to her young daughter? Mummy's bum is all over the net haha. Lead by example."
"Beautiful, but you are a mother. Be a role model for your daughter."
Can we all just agree once and for all that this is absolutely absurd? It's completely ridiculous and sexist and just plain wrong to expect moms to turn in their sexuality the moment they have a kid. Despite the fact that people often feel emboldened to touch pregnant women's bellies without even asking or that the general public has a lot to say about when and where they breastfeed their babies, moms' bodies are their own to do what they want with.
Further, Dewan Tatum is in no way setting a poor example for her daughter by bearing her body on the internet. Quite the opposite. By continuing to post the kind of photos of herself that she loves, she showing her daughter that is OK to feel empowered to do so, no matter what people have to say about it.
To be clear, the vast majority of comments to Dewan Tatum's lingerie/boots were beyond complimentary — and that's the way it should be. The mom-shamers should be embarrassed.
Watch Romper's new video series, Romper's Doula Diaries:
Check out the entire Romper's Doula Diaries series and other videos on Facebook and the Bustle app across Apple TV, Roku, and Amazon Fire TV.