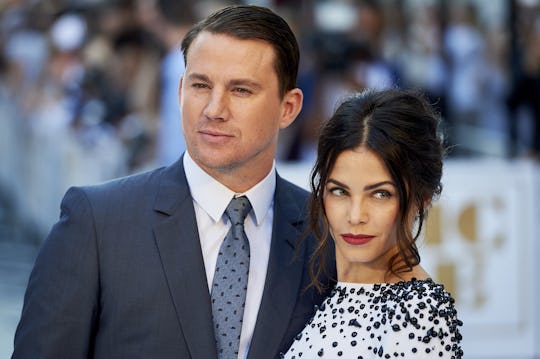 NIKLAS HALLE'N/AFP/Getty Images
Jenna Dewan-Tatum's Daughter Appeared On Snapchat, & She Is So Adorable
Celebrity couple Channing Tatum and Jenna Dewan-Tatum had a fun summer weekend in Los Angeles, California. They celebrated another young family at actor Nick Zano and his partner's baby shower. The party was picture perfect, complete with fresh flower crowns and a photo booth where guests could capture the joyous occasion. While the photos of Tatum and Dewan-Tatum are adorable, what's even better are the snaps of them with their cute 3-year-old, Everly. During the party, Jenna Dewan-Tatum's daughter appeared on Snapchat giving a rare glimpse into this photogenic, loving family.
According to Entertainment Tonight, the star-studded soiree had its own special Snapchat filter that emblazoned snaps with "Leah & Nick's Baby Shower," and Dewan-Tatum was into it. She captured some of the photo booth shots on her social media and fans have been loving them. In some, Tatum and Dewan-Tatum are smooching, and, in others, they're making silly faces (typical Channing). In others still, fans can see they're lovely late spring party attire, and in some, fans can see little Everly, smiling along with her happy parents. Everly has been kept out of the press very well so far, but what's clear from this rare photo is that she's a complete cutie with dirty blonde hair and some serious bangs.
Though this is one of the first shots of Everly in some time, it's not the only time Tatum and Dewan-Tatum have referred to the joys and trials of parenthood on their feeds. On Father's Day, Dewan-Tatum took to Instagram to share a sweet photo of Tatum and Everly dancing. Everly is wearing a purple princess gown and Tatum is playing the role of her dance partner/prince charming. Dewan-Tatum captioned the photo by writing, "We couldn't love this daddy more! You are all heart and we are so grateful for you every day❤️❤️"
Tatum, being the wonderful man that he is, posted a similarly grateful, loving message for Jenna on Mother's Day not too long ago. In the Instagram post, Channing is holding a black-and-white photo of Dewan-Tatum (or as Channing calls her in the post, "Cake") resting with baby Everly.
His caption was so sweet. He wrote:
I took this just days after jenna and I (mostly jenna) brought our little girl into the world. I've taken many like it over the past 3 years but this is one of my favorites. She was so tired. Haha. But she has such deep strength and other worldly grace. Watching her in those first days transform into a mother was life changing. She was every bit the beautiful, sexy, funny, flawed creature I fell in love with. But the prism turned and showed a whole new light that I had no idea existed, the light of a mothers love. Thank you for that baby. Saw this quote today --" The most important thing a father can do for his children is to love their mother. Theodore Hesburgh" there are a lot of important things in being a father. Who knows what the most important thing is? All I know is that in my case this is pretty high on my list. Love you cake!
Though Tatum and Dewan-Tatum's desire to keep Everly out of the spotlight is completely understandable, this little glimpse of her and her loving parents is very welcome, especially just after Father's Day.