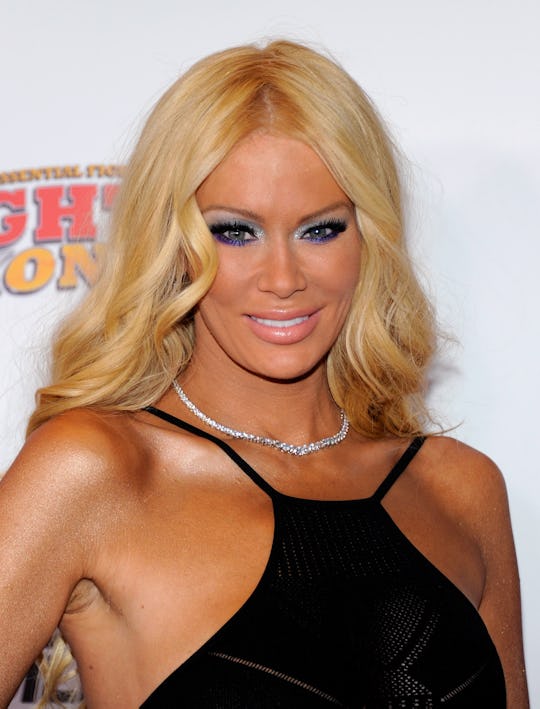 Ethan Miller/Getty Images Sport/Getty Images
Jenna Jameson Is Normalizing Breastfeeding With Her Selfies
The "breastfeeding in public" debate will seemingly never end. But now, moms who breastfeed have a new spokesperson, and it's someone who definitely understands the double standards Americans hold about breasts. Jenna Jameson's latest breastfeeding selfie is empowering mainly for that reason — and when you see it, you'll want to give her a high-five.
As most people know, Jameson has been confident about baring her breasts in a number of situations in the past, so now that she's posting about normalizing breastfeeding, maybe more people will finally get it. Because Jameson certainly knows that using her breasts to feed her daughter, Batel, in public isn't "obscene" or any of the other words people use to fight against breastfeeding — it's just natural. (It's a breast and a nipple. And this one just so happens to be sustaining an infant, relax.)
Jameson posted the selfie from her bed earlier this week; In it, she can be seen feeding baby Batel and sharing a quiet moment. The photo is captioned with a simple hashtag: "normalizebreastfeeding." More like this, please.
Actually, since giving birth in April to Batel, Jameson has been all over showing off her breastfeeding moves, sometimes taking pride in the act and at other times rolling her eyes at the whole thing — something with which most breastfeeding mothers can likely relate. In one selfie from early April, Jameson snapped a photo of herself in a tank top, covered in leaks. "Breastfeeding is so damn glamorous #inserteyeroll," she wrote.
It's amazing how many people just can't stop hating on breastfeeding moms, though. Jameson even had to take on a commenter hating on the fact that she just wanted "show off" a boob, totally missing the point. Luckily, Jameson wasn't afraid to clap back and told him to straight up unfollow her Instagram page.
The author and actress has posted numerous breastfeeding selfies since Batel was born on April 7. At the one month mark, she posted another breastfeeding selfie and wrote:
One of the most amazing things I've accomplished is persevering through the hard times of nursing. What they say is true, the first few weeks are hard, but once you both get in the groove it's second nature. To all you mamas, you can do it... don't give up. And if you can't, don't stress, don't overthink... just feed your baby and bond. #normalizebreastfeeding
Jameson is a great example of how moms should support each other — especially in the early days. Jameson is able and willing to breastfeed but also gives a shout out to formula moms, saying that she hopes they too get to feed their little ones "and bond." Because that's really what it's all about.
Hopefully Jameson will keep the empowering Instagram posts coming. There are likely tons of women out there who could use a little inspiration from her now and again.