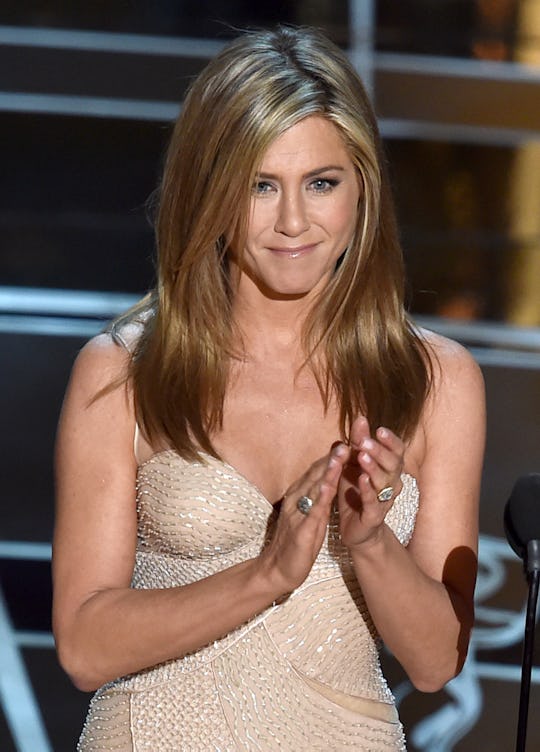 Kevin Winter/Getty Images Entertainment/Getty Images
Jennifer Aniston's Moving Tribute To Bill Paxton
The In Memoriam segment during the Oscars is always difficult. It's hard to see all the faces of famous people we lost over the year, knowing the stars pictured are no longer with us. The person who has the privilege to introduce the segment has a very big job, and the one who did it this year did the dearly departed justice. Jennifer Aniston's tribute to Bill Paxton during the Oscars In Memoriam was so moving, and she wasn't afraid to show a little emotion while she performed her duties.
Singer Sara Bareilles honored the stars who died this year by performing during the In Memoriam tribute, but it was actress Aniston who introduced the segment. She was visibly emotional as she explained that actor Bill Paxton, known for film roles like Aliens, Twister and Titanic, and TV show appearances such as Big Love and Hatsfields & McCoys, passed away suddenly on Saturday as a result of complications from surgery. He was not included in the montage during the awards show.
During her introduction, Aniston said Paxton was a, "beloved actor and friend who left us just yesterday," then began to choke up. Was the actress just emotional as a fellow actor, or did she have a personal connection to her deceased peer?
Apparently, Aniston and Paxton were friends, so it wasn't just a moment of mourning a fellow actor. The fact that she couldn't completely keep it together when she mentioned him while presenting the introduction to the memorial montage is incredibly touching, and definitely understandable if they personally knew each other.
"All were loved — I'm sorry — and all will be missed," Aniston said on the Oscars stage, with a tremble in her voice that led her to apologize to the audience before the montage began. And when the In Memoriam segment paid tribute to stars like Carrie Fisher, Mary Tyler Moore, and John Hurt who died in the past year, Aniston's emotional statement before the segment made the moment all the more poignant.
Though Paxton never appeared in Friends, arguably Aniston's most famous role and it doesn't appear that they ever shared a screen together, she spoke of him as a friend during the introduction. So her emotional reaction before the memorial segment seemed all the more authentic to those watching in the audience and at home.
It was too late to add Paxton to the montage before the show, so it's lovely that the producers of the Oscars made sure he was mentioned anyway. Aniston's introduction and pure show of emotion was a beautiful way to pay tribute to the dearly departed actor.