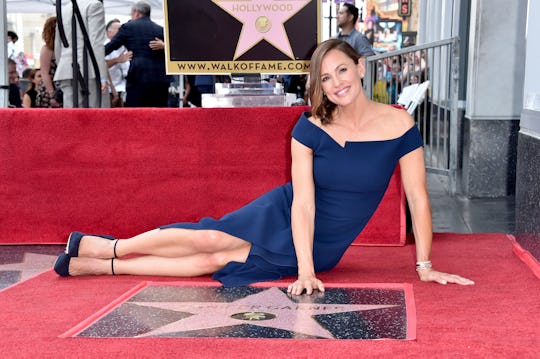 Alberto E. Rodriguez/Getty Images Entertainment/Getty Images
Jennifer Garner Attending Her Walk Of Fame Ceremony With Her Kids Was A Rare, Beautiful Moment
It's easy to forget that celebrities are people too sometimes. But once and awhile, they have a moment that is so humanizing and beautiful, you wish you could just take them out for lunch and be BFFs with them. Jennifer Garner's sweet moment with her kids during the ceremony for her star on the Walk of Fame on Monday was just that kind of revelation. A perfect reminder to fans that, despite her zip code and net worth, she is just a woman and a mother doing a job.
The sweet moment wasn't private, but rather part of a pretty large photo op. As she lined up with a group of people who look an awful lot like family members, her 6-year-old son, Sam, said something that caused her to pick him up and hug him, as you can see in a video shared by Variety on Twitter. All the while she was a perfect multi-tasking mom, looking at the camera and paying attention to what was required of her at the moment.
In footage of the moment, Garner's son can be seen leaning into her neck and saying something that caused her to rub his back. And in a moment, she put him down and leaned down to kiss the top of her 9-year-old daughter Seraphina's head. She bent down and spoke to Seraphina before kissing her on the lips and giving her a hug. Then, 12-year-old Violet can also be seen standing behind Seraphina and touching her on the shoulder.
The whole thing was so genuine and affectionate that the actual Walk of Fame star took a place far behind the sweet moment.
This star is a perfect complement to Garner's career, which launched 20 years ago, according to Variety, with a slightly different moment on the Walk of Fame. As Variety recounted, a trip out to California at the very start of her career, which resulted in an afternoon of driving around lost. Stumbling onto Hollywood Boulevard, Garner spent some time perusing the Walk of Fame, according to Variety, probably dreaming that one day, one of the stars would bear her name.
But it was motherhood, not an acting job, that cemented her love of her profession. A year after the role in 13 Going on 30 that introduced her as a movie star, she married and had the first of her three children, according to Vanity Fair. Following each child, she had to make a conscious choice to continue with her career, as Variety reported. "I would have to decide, 'No I actually do love this job," she told Variety in an interview. After her third child, her agent pushed her to make a choice about which path she wanted to pursue: stay-at-home or working-mom. "That was a real moment of decision and clarity and I loved him for it because it forced me to say, 'OK, I am not ready to be home all the time,'" she told Variety.
Her friend and former Alias co-star Victor Garber told Vanity Fair that now being a single mom — Garner divorced from Ben Affleck in 2015, according to People — has brought a spark to her career. Removed now from the megawatt stardom of her husband, "She is becoming the person that I could see in her that she almost couldn't see in herself," Garber told Vanity Fair. "I think she went from someone who wanted to take care of everybody to be someone who said, 'In order to do that I have to really take care of myself.'"
One of those methods of self-care may be advocating to protect her children. Her display of love on Monday is just a glimpse at the fierce battle she's waged to protect all celebrity children from being approached by paparazzi, according to TODAY. In 2016, she told TODAY that she even considered leaving California if the bill she was lobbying for wasn't passed into law. It was, according to TODAY, which had to have been a huge relief to Garner and many other celebrity parents, as she explained in an interview with TODAY:
What we're hoping is that our kids' day-to-day experience will not be of really aggressive men yelling and screaming 5 feet from their faces... My kids take karate for example, and we have our classes at the same time every week. So the guys know when we have karate, and so 20 of them wait there for us every single class. So that's a lot of energy coming at little, little kids.
The result of her efforts may be the beautiful moment crowds witnessed today, as this mother feels safe bringing her children to this very public event. Congrats to Jennifer Garner on this well-deserved recognition, and on her very beautiful family.