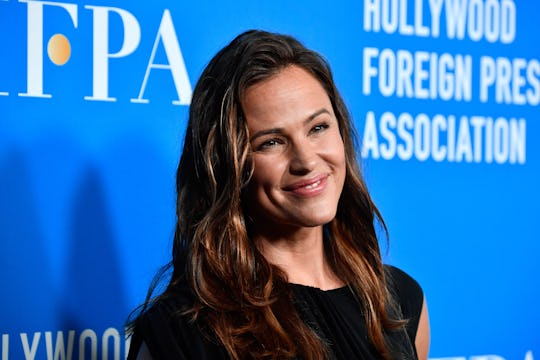 Frazer Harrison/Getty Images Entertainment/Getty Images
Moms Are Loving Jennifer Garner's Side-By-Side Photo Comparing The First & Last Day Of Summer
Jennifer Garner, mom to three adorable kiddos — Violet, 12, Seraphina, 9, and Samuel, 6 — had one heck of a summer. Not only did Garner get stranded while kayaking in Stockholm, Sweden, with Violet, but she also struggled to balance work and her personal life. And on Monday, Garner compared moms at the start and end of summer in a hysterical photo. Unsurprisingly, many parents are praising the pic for its humor and realness.
If you haven't checked out Garner's Instagram account yet, put that at the top of your priority list. Garner's page is chock full of hilarious memes, videos, and throwback pics, and the actress isn't afraid to put it all out there for fans. One day you might come across a video of Garner dancing in a tutu with a group of stunt performers, while the next day you might be treated to a photo of her new chicken, "Hennifer."
Considering Garner's social media posts are always a hit, it's no surprise she came up with a hysterical meme to sum up moms on the first day of summer versus moms on the last day of summer. In the post that has garnered upwards of 154,000 likes, Garner created a vastly different side-by-side photo of herself. A beautiful pic of Garner on the left reads, "Moms: First Day of Summer," while a bloodied and disheveled photo on the left says, "Moms: Last Day of Summer." Garner captioned the funny shot: "backtoschool #Iwillmissthembut... #godblessteachers #peppermintmovie."
Of course, Garner didn't injure herself to drive home the point that the struggle is real for parents during the summer. As you might have noticed in the caption, the shot was probably taken on the set of Garner's new action flick, Peppermint.
Garner's special effects makeup aside (props to Peppermint's makeup artist, BTW), it's clear parents *love* her hilarious take about the end of summer.
"Oh my god this is brilliant 😂😂😂," one fan penned.
Someone else chimed in: "The most relatable post ever. 🙌🏼"
"Omg....this is amazing and on point!!" a parent wrote.
"Funny because it's true!" another person commented.
It's no secret Garner knows what she's talking about when it comes to tough summers. In August, for instance, Garner and Violet got stranded while kayaking in Stockholm, Sweden.
"On a pre-middle-school sneak away with my eldest...Did I get us lost in a kayak? Yes," Garner joked on Instagram. "Did we paddle as hard as we could for 100 hours and end up in a shipping lane? I'm afraid so. 😬Did we have to be rescued? Yup." Haha. I'm thrilled to hear Garner and Violet made it safely back to shore.
Although Garner's kayaking excursion has a note of humor to it, her ongoing divorce from Ben Affleck doesn't. In a July interview, Garner got real about all of the turmoil following her split from Affleck in July 2015. Garner confessed to CBS News:
... And looking back on that. I really feel the stress of it. I really, I could cry talking about it ... But to be honest, public scrutiny, everyone says, 'Oh, you've had to go through this in public.' The public isn't what's hard. What's hard is going through it.
One can imagine it must be difficult for Garner to parent three kids during these tough times, especially since she has to balance work on top of it all. It just goes to show Garner is an exceptionally strong and resilient person — her children are very lucky to have her as a mom.
So, here's to Garner making it through another summer intact, and to all of the other parents out there who are low-key thrilled to send their kids back to school. You guys all deserve medals.