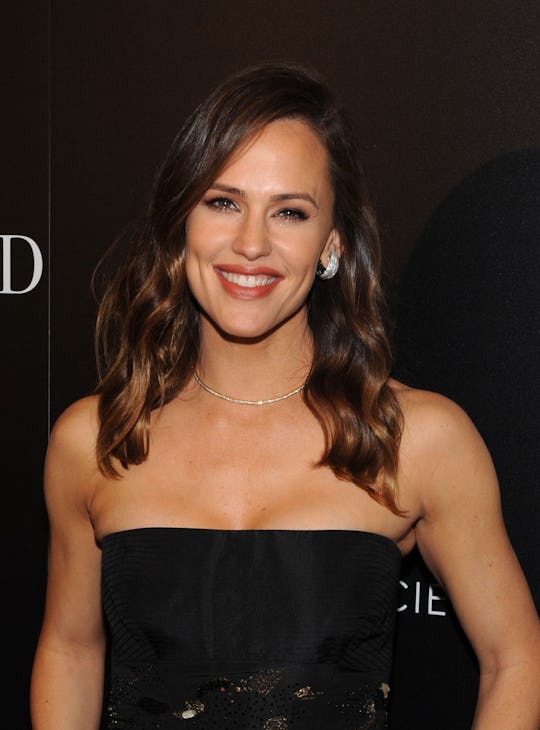 Craig Barritt/Getty Images Entertainment/Getty Images
This Photo Of Jennifer Garner Helping Sell Girl Scout Cookies Is Literally Every Scout Mom
In case you've been living under a rock these last few weeks, let me be the first to inform you that Girl Scout cookie season is in full swing. Along with the youngsters, many parents are out slinging Samoas as well. And this photo of Jennifer Garner helping her daughter sell Girl Scout cookies is proof that even celebs get in on the action, because she's literally every mom with a girl in the scouts... on a mission for all the patches.
Garner has three children — 12-year-old Violet, 9-year-old Seraphina, and 5-year-old Samuel and spends much of her time moming it up. Most recently, she revealed on Instagram that she, like many other parents in prime cookie season — spends her weekends dealing Do-si-dos. The candid photo shows Garner holding an adorable hand-made sign listing the various types of cookies that she had available, while an unnamed man appears to recognize either the famous saleswoman or the cookies located behind her.
"Why yes, kind sir, we do have Thin Mints," her photo caption reads, along with the hashtags "#tistheseason," "#comeandgetem" and "#whodoesntloveagirlscout."
Many of Garner's followers commented on her post and expressed their love for her. Many praised her for her humility, saying things like, "I love seeing how normal you are," and "Love how down to earth you are Jennifer!!! Never change!"
One commenter from Beverly Hills congratulated Garner on her willingness to be more "mom" than "famous, writing: "Bravo! I *knew* there was a reason I liked you ;) When I grew up in Beverly Hills, NO ONE's "famous" mom did this. Congratulations!"
"It's BEYOND refreshing to see a celebrity being a regular Mom and Human being! Makes me even more proud to be a super fan of yours!" another fan wrote.
One user and former Girl Scout troop leader chimed in, "I've always admired you.. now, as a former GS Leader - I admire you even more.. LOVE seeing parents show up at booths and help.. AND LOOOOOOOVE the hand-made poster!!!!!!!!!"
Along with selling cookies on site, Garner also set a few boxes aside to send to her followers. She announced as much on Instagram, saying:
While my Girl Scout and Brownie have to sell their own cookies, I did buy a limited number of boxes from them to share with you guys. So if you truly have no Girl Scout in your life, please send me your order and your address and I will try to hook you up.
She sold out of these boxes in a matter of minutes, according to People. No big surprise there, though. Who wouldn't want their cookies to come packaged with love from Sydney Bristow?
This wasn't Garner's first experience with cookie sales; she shared her passion for cookie capitalism while appearing on Live with Kelly and Michael. She went through "intense" training to become a scout troop leader and loves a good sale. "I'm the one telling the girls, you know, 'Try to talk about the gluten free because they're a dollar more.' Let's have an upsell!" she said during the segment.
But she is far from the center of attention when she attends sales days. "Nobody cares," she told Live with Kelly and Michael. "I'm just there with the troop." I love a good celebrity encounter, but nothing beats a box of Thin Mints in my book.
Garner is known for being a down-to-earth moms' mom, but this post really takes the cake — or, um, cookie, I guess. If nothing else, it is proof that kids come first and parents will do whatever it takes to support their little ones — even if that means being caught in candid photos selling cookies outside of a grocery store.
Check out Romper's new video series, Bearing The Motherload, where disagreeing parents from different sides of an issue sit down with a mediator and talk about how to support (and not judge) each other's parenting perspectives. New episodes air Mondays on Facebook.