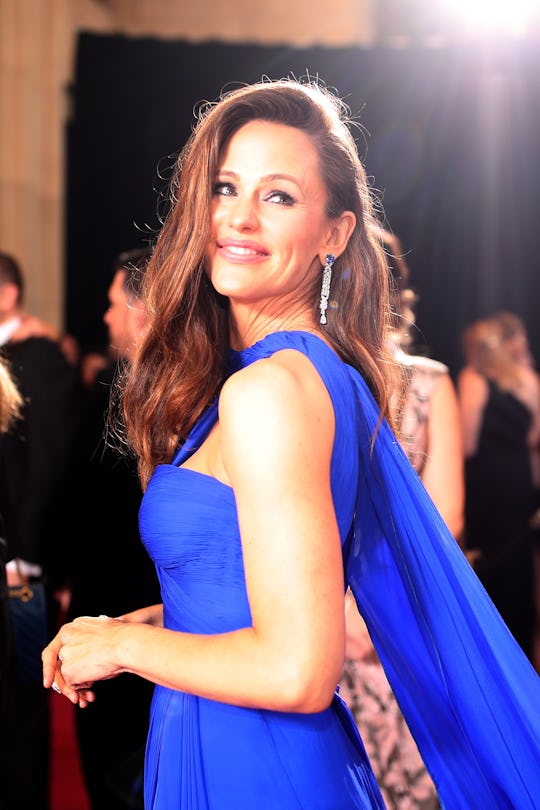 Christopher Polk/Getty Images Entertainment/Getty Images
Jennifer Garner Celebrated National Middle Child Day With This Sweet & Hilarious Post
Middle children often get a bad reputation. They're portrayed as the "forgotten sibling," sandwiched between the older sibling who paves the way, and the younger sibling who is treated as the "baby" of the family. But, celebrities like Jennifer Garner are doing their part to make sure middle children are definitely not forgotten. In the sweetest Instagram post on Sunday, Garner said she is a middle child and she's so proud of it, something that middle children everywhere will certainly appreciate.
Although it's a far less popular holiday than Christmas or the Fourth of July, this Sunday marked National Middle Child Day in the United States, according to HuffPost. And for middle children, this holiday should be a pretty big deal — because middle children can finally have their opportunity to be in the spotlight. At least, Garner seems to think so.
On Sunday, Garner celebrated middle children everywhere in a super sweet Instagram post. The actress posted the cutest throwback photo of her and her two other siblings (who look so much like her) sitting on the front of a boat and smiling at the camera. Her caption was just as adorable, owning up to the middle child stereotypes (while explaining that being a middle child isn't so bad). "Attention seeker. Melodramatic. Peacekeeper," Garner wrote in the photo's caption. "Middle sister, now and forever."
Awwwww.
Just by looking at Garner's Instagram post, you can tell that she is so happy to be the filling in her sister sandwich and loves being a middle child, even if they are a little misunderstood. And just as much as Garner loves being a middle child, she loves being a parent to one, too. Garner and her separated husband, Ben Affleck, have three children together, according to Us Weekly — 12-year-old daughter, Violet, 9-year-old daughter, Seraphina, and 6-year-old son Samuel. And in her most recent Instagram post, Garner gave a special shout-out to Seraphina. "Also, #ilovemymiddlechild," Garner wrote in the photo's caption.
As if Garner didn't make this clear enough by her words, her actions show that she might understand Seraphina a bit more than others, perhaps because they're both middle children. In the most hilarious Instagram post from this past April, Garner modeled a very eclectic looking scarf (that was knitted by Seraphina) while walking down the street, according to Us Weekly. "When your nine year old weaves a 12 foot long scarf on a peg loom for your birthday present, you better #werk," Garner captioned the photo. "#proudmom."
But Sunday's Instagram post is not the first time that Garner has talked about being a middle child; according to People, it really is a part of her identity. In April, on National Sibling's Day, Garner posted the sweetest tribute to her sisters and being the middle child on Instagram. "First and foremost, I am the middle Garner Girl," Garner wrote in the photo's caption. "How lucky I am to have such sisters."
In 2015, Garner elaborated on what it means to be the middle child to Southern Living:
Being the middle child of these three girls is the relationship that defines me more than anything else. More than being my kid's mother, more than being my husband's wife, I'm first and foremost the middle Garner girl.
In 2016, Garner told Vanity Fair that it was her older sister, who was "the prettiest person in the world," that inspired her to explore her passion for performance, which led her to dance as a child and then get into acting. With quite a few leading roles under her belt, it's safe to say that being a middle child has definitely suited her well.
The stereotypes surrounding birth order (and middle children) aren't necessarily false; according to Parents, siblings adopt roles based on their behavior, which then determine their personalty. Middle born children typically seek out roles that the oldest child in the family aren't filling, according to Parents, which means that they're the "hardest to label."
But middle children are also reportedly "becoming extinct," according to The Cut. Nearly two-thirds of women with children have one or two kids, knocking out the middle child from the equation completely. Quite a few factors go into this. According to USA Today, the cost to raise children is high and women are both delaying childbirth and deliberately planning out their families, which has caused middle children to fall wayside, according to Fast Company.
But maybe Garner's newest Instagram post will bring attention to the important roles that middle children play. They're the negotiators and compromisers of the family, according to HuffPost, as well as being super loyal. These sound like characteristics that shouldn't be forgotten and celebrated, especially on National Middle Child Day.