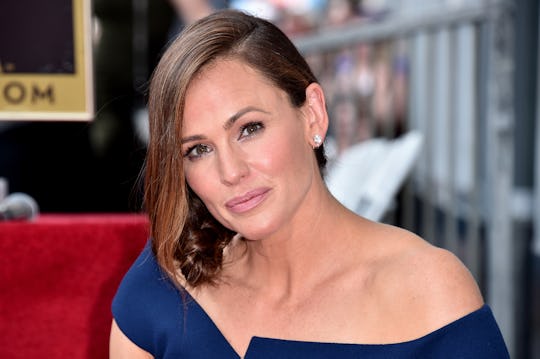 Alberto E. Rodriguez/Getty Images Entertainment/Getty Images
Jennifer Garner Is Proud Of Her Decision To Keep Working With 3 Kids At Home
Mastering the art of balance is never easy, but when you have children at home who love and depend on you a whole new struggle appears: guilt. Moms are often forced to choose between spending their time at home or returning to work without their little ones. In a recent interview, Jennifer Garner opened up about returning to work with three kids at home and every mom should read what she has to say about it.
Garner is a mother-of-three who boasts a very successful and varied career, but striking a balance between being a mom and a professional hasn't always come easy for her. She recently spoke with Variety about her decision to return to work after giving birth to her third child in 2012, her son Samuel who is now six.
Immediately after Samuel was born, Garner decided to take six months at home with him before returning to work. She told Variety that she did so because "three kids just knocks you flat on your *ss," a sentiment that I'm sure many a mom would agree with. But she had to make the choice at the end of that period off to return to work or stay at home. "I would have to decide, 'No I actually do love this job,' " she said, adding that a conversation with her agent at the time, Patrick Whitesell, made her evaluate her priorities, according to People.
As she explained it to Variety, Whitesell gave her an ultimatum:
Patrick said, 'Either this is the telephone call about you doing Dallas Buyers Club and how we're going to make that happen, or it's a telephone call about your retirement.' That was a real moment of decision and clarity and I loved him for it because it forced me to say, 'OK, I am not ready to be home all the time.'
Making the decision to return to work — or not to — isn't always easy. Moms are often made to feel guilty no matter which decision they make. When I was deciding whether or not to put my daughter into daycare and work full-time, I had some people tell me that it would be unfair to her for me to do so. When I made the decision to stay home with her instead, my critics pointed out that I was failing to chase my dreams and be the driven, career-minded women they had always known. So, what is the correct choice to make given these dual pressures?
According to Jessica N. Turner, mom and author of the book Stretched Too Thin: How Working Moms Can Lose the Guilt, Work Smarter, and Thrive, it's not about succumbing to mom guilt from one side or the other, it's about finding what works best for you and her family. Writing for Time, Turner said:
As working moms, we are constantly making choices about how and in what to invest our time. The more we can do that's not rooted in guilt and comparison but is instead an output of joy and love, the better life is.
She went on to explain that it's important to take care of yourself, as well as your family:
When I take time to practice intentionality, really listen to my family members, take care of myself and love the work I do, I find myself thriving.
For Garner, the best choice for her was to return to acting. That is where she felt she could best serve her family. But she is far from neglecting her children. When she's not starring in hit films and running a successful business, she is wearing the hilarious clothes that they make for her, selling Girl Scout cookies outside of her local grocery store, and generally killing the mom game. Because, yes, working moms can do both.