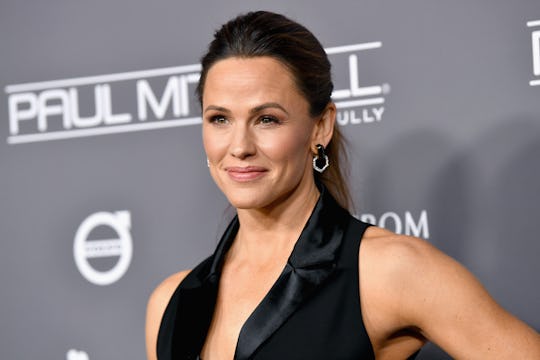 Emma McIntyre/Getty Images Entertainment/Getty Images
Jennifer Garner's Advice For Talking To Kids About Wildfires Makes Total Sense
As wildfires continue to rage in northern and southern California, it can be difficult for parents to know how to navigate this sensitive topic with their kids. Really young children who haven't directly been displaced or affected by the deaths probably have no idea that so much destruction has occurred. But for kids who do pick up on conversations or news stories revolving around the deadly wildfires, it's a bit harder for parents to avoid addressing the topic altogether. And honestly, Jennifer Garner's advice for talking to kids about wildfires makes a lot of sense.
Considering Jennifer Garner lives in Los Angeles with her three children — Violet, 12, Seraphina, 9, and Samuel, 6 — the topic of the ongoing wildfires in California has likely come up at some point. On Saturday, Nov. 10, the actress was speaking to reporters at the Baby2Baby Gala in Los Angeles, when she was asked about how she had explained the devastating situation to her kids. And if you ask me, her words were both wise and practical. "You just tell them they're safe and that there's a lot of helpers in the world and that you gaze toward the light," Garner told Us Weekly.
If you think about it, Garner's approach makes a lot of sense: First and foremost, stress to your children that they're safe. Focusing on the fact that so many people are out there helping the displaced victims and continuing to control the fires seems like another solid strategy that won't cause kids to needlessly worry. But just for fun, let's take a look at a few tips from experts, as well.
As this article from Children's Hospital in Colorado points out, kids who are about 6 years old or older could have serious worries about natural disasters like wildfires. Which is why parents should limit their exposure to the media — including TV coverage that includes tragic stories and visuals on repeat. (Or maybe just avoid this type of coverage until the kids aren't around.)
Talking to kids about the importance of preparing for a wildfire — as well as why there are agencies to help — can also give older kids peace of mind. The article explains:
Try to answer their questions about how wildfires can happen. Talk about insurance companies and how, "If we pay them a little bit every year we don't have to worry so much about not having a house if a fire destroys it."
Explaining to kids that there are agencies or family members who would take care of them if they needed to evacuate can also help alleviate worries. According to Children's Hospital in Colorado, parents can say something like: "We're going to stay safe. We can get another house; we can't get another you."
Extra affection and reassurance never hurt either, according to the Los Angeles Times. Keeping routines generally constant while also infusing a bit more affection can make a big difference. "'I love you and you're safe.' Just keep saying it, over and over again," said Jennifer MacLeamy, the director of behavioral health at the Petaluma Health Center. "A hug is really powerful."
Look, I know this particular Fred Rogers clip comes up time and time again in the wake of a natural disaster, mass shooting, or a terrorist attack — but it's legit. "Always look for the helpers," Rogers said of his mother's advice when he was younger. "There will always be helpers just on the sidelines ... Because if you look for the helpers, you'll know that there's hope."
No matter how far away your family is from the California wildfires, it can be difficult to know what to say. Unless your child is still relatively young, though, it's probably best to at least reach out and check in with how they're feeling. Answer their questions the best you can. Reassure them that they're safe. And don't forget to remind them to look for the helpers.