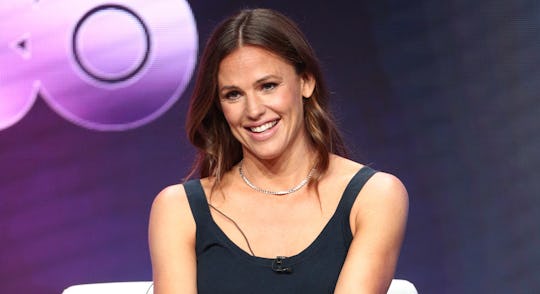 Frederick M. Brown/Getty Images Entertainment/Getty Images
Jennifer Garner's Family Kayak Trip Turned Very Scary Very Quickly
Perhaps spending five years playing Sydney Bristow on Alias prepared her for this: Jennifer Garner's recent kayak trip with her daughter in Sweden went from family fun to an international rescue mission, just like something out of a movie, according to the Huffington Post. Garner shared some highlights of the mother-daughter excursion turned disaster on Instagram. The star and her daughter, 12-year-old Violet, are pictured paddling into the sunset in a serene image that bears no hint of what was to come, but from the lighthearted tone Garner took when describing the incident, it seems that she's taking it all in stride.
"On a pre-middle-school sneak away with my eldest," she captioned the photo. "Did I get us lost in a kayak? Yes. Did we paddle as hard as we could for 100 hours and end up in a shipping lane? I'm afraid so. Did we have to be rescued? Yup." She closed the short story with a series of hashtags thanking the man who rescued them, and noting that Violet never complained, which is pretty remarkable, especially when you consider that she's 12, and therefore more likely to complain about anything and everything. Could be that she didn't realize the gravity of the situation thanks to Mom's acting skills, or maybe she's just a gem of a kid.
Garner also shared a selfie with Mattias Persson, the man who came to their aid, on her Instagram Story. It was later reposted by his employer, Långholmen Kayak, the rental firm where the pair procured the doomed vessel. That post shed a little more light on what went down:
Mattias, one of the champions of the Långholmen kajak team, got a call from Jennifer Garner one evening. She was lost on the waters of Stockholm with her daughter in one of our double kayaks. Mattias got into a kayak of his own and started searching for them. Fortunately he found them not too far away and was able to guide them back to our rental. Quite an adventure!
The company also thanked Garner for her business, and expressed hope that she'd return. Sure, it all turned out OK thanks to Mattias, but I don't blame her if she never gets in a kayak again after that ordeal.
Långholmen Kayak offers guided tours, but they also allow guests to go it alone. The company's site cautions kayakers that Stockholm's inner archipelago is a busy area, and they'll need to know the rules of the water, like the fact that they must give way to all motorized vessels. The site also advises staying close to land, as paddling only becomes more difficult farther out to sea. The company outfits all kayakers with life jackets, maps, and waterproof bags, which obviously came in handy when Garner had to summon Persson to locate her and Violet.
The adventure seems to be a little bit of life imitating art, as Garner's next project also placed her in the middle of some outdoorsy mishaps. Last month, HBO announced that she'd be starring in Camping, an upcoming eight-episode series produced by Lena Dunham.
The half-hour comedy follows married couple Kathryn and Walt, who have planned a delightful weekend "back to nature" for Walt's 45th birthday. But when the camping trip gathers Kathryn's meek sister, holier-than-thou ex-best friend, and a free-spirited tagalong in one place, it becomes a weekend of tested marriages and woman-on-woman crime that won't soon be forgotten.
Garner will star as Kathryn, opposite David Tennant as Walt. Deadline has reported that Juliette Lewis will play her friend Jandice, a DJ, reiki healer, and C.P.A. who sounds absolutely insufferable. I think I'd rather be lost at sea. Camping premieres Sunday, Oct. 14.
Arturo Del Puerto , Ione Skye, Janicza Bravo and Brett Gelman co-star, and Bridget Everett is among the recurring cast.