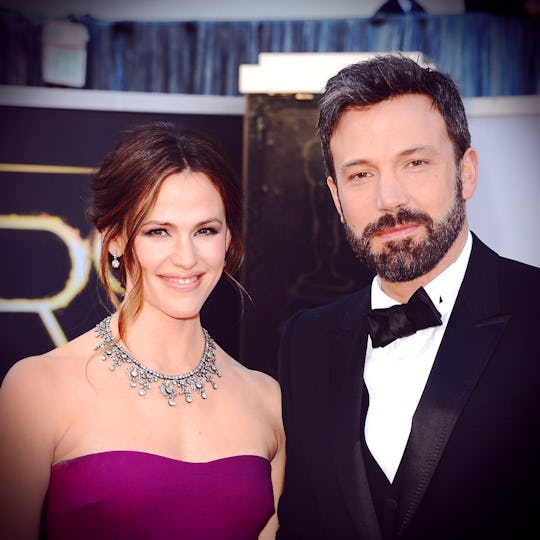 Jason Merritt/Getty Images Entertainment/Getty Images
Jennifer Garner's Touching Father's Day Message To Her Ex Ben Affleck Is All About Their Kids
One of the most difficult things about divorcing your partner is making sure that the kids are handling things alright. Though co-parenting is not always easy and can be tough for many parents, it's always nice to see when former couples are able to make things work. For example, Jennifer Garner shared a touching Father's Day message to Ben Affleck this weekend and it proves that they've definitely got the co-parenting thing down.
The former couple — who had been married for 10 years before announcing their split back in 2015, according to Vanity Fair — share three children together: Violet, 12 years old, Seraphina, 9 years old, and Samuel, 6 years old. They announced their breakup amid rumors of alleged infidelity on Affleck's part, according to Vanity Fair, though Garner later denied that those rumors were true. She said in a cover story for the publication in 2016, "We had been separated for months before I ever heard about the nanny. She had nothing to do with our decision to divorce. She was not a part of the equation."
Affleck and Garner finalized their divorce in 2017, according to People, so it likely hasn't been the easiest past couple years for the family. In fact, as Garner told Vanity Fair in the interview, "I have had to have conversations about the meaning of 'scandal.'"
But in her Father's Day message to her ex husband this year, Garner had nothing but love. Garner wrote
Our kids are lucky to have a dad who looks at them the way you look at them and loves them the way you love them, @benaffleck. #happyfathersday #threeluckykids #haveagreatday."
Garner also showed her own father some love on Instagram, captioning a picture of her and her dad, "Hey Dad, Melissa, Susannah and I know how lucky we are to be yours. We love you, Dad, and can't wait to see you SOON! #happyfathersday #threeluckygirls #haveagreatday," echoing the sentiment she sent to her ex. Short, sweet, and to the point.
The "have a great day" part in her caption to Affleck seems to indicate that they might not be spending the day together. Of course, their kids might be with him. In any case, it's nice to see two people who have been through some rough moments and are able to keep things amicable for the sake of their kids.
Given how public their breakup was, it can't be easy for either of them, even after all this time, but acknowledging each other is likely in the kids' best interest. Affleck said as much in an interview with TODAY in 2017, explaining:
You have to be on the same page. You have to cooperate. If you recognize that you both have the best interest of the kids at heart, it's quite a special connection. We're the only two people in the world who care this much about these three kids. We don't always agree. I tend to be more permissive about video games, for example. I played video games when I was kid.
Affleck has been dating Saturday Night Live producer Lindsay Shookus since just after his divorce was finalized, according to Us Weekly. And as People reported, a source reportedly said that "things are pretty good between" Affleck and Shookus right now and that "as long as Ben keeps working on himself, Jen is happy. She will continue to support him because it benefits the kids."
Of course, splitting up and co-parenting is never a smooth ride and some couples take longer than others to figure things out. But after watching Garner and Affleck's relationship play out in the media, it's nice to see that there seems to be nothing but respect for each other and their kids between them.