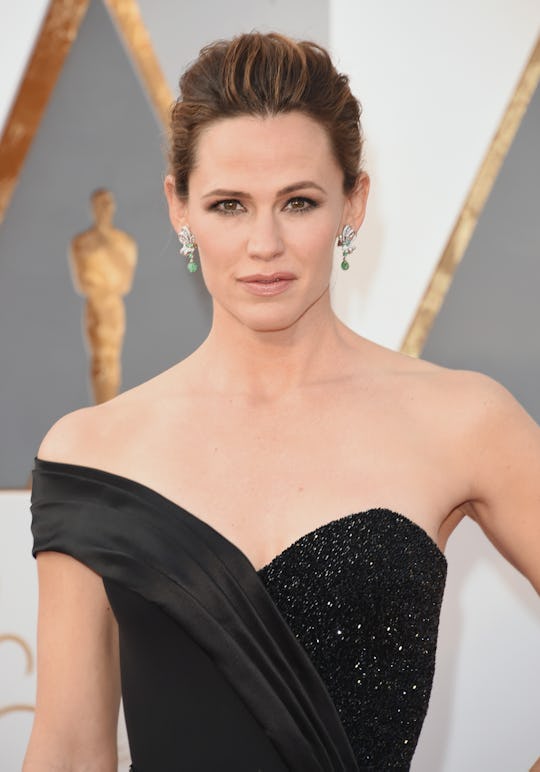 Jason Merritt/Getty Images Entertainment/Getty Images
Jennifer Garner's Oscars Dress Is A Nod To Her Sleek & Sophisticated Style
I want you all to know something: I am a huge, yuge, Jennifer Garner fan. In the past year, my status as a superfan has only grown tenfold. After the announcement came that Garner would be joining the list of award presenters at this year's show, I couldn't wait to see what she's wear. And Jennifer Garner's Oscars dress definitely did not disappoint. On the heels of her Vanity Fair interview, Garner's dress was a one-shouldered sleek black number, a classic yet powerful look, one she's mastered again and again on the red carpet over the years. When I think back to some of my favorite red-carpet gowns, it's impossible for me to overlook or ignore the stunning purple Gucci gown she rocked at the 2013 Academy Awards, as well as the $2.5 million in jewels from Neil Lane she pulled off to complete the outfit. The purple dress totally encapsulated the "business in the front, party in the back" mantra, because enough though it looked like your standard figure-flattering and flawless strapless dress from the front, once Garner turned, a decadent full-body bow was one none of us could take our eyes off of.
If you thought that Garner's looks couldn't (or wouldn't) ever get better than that dress, let me remind you of her "simple" silver beaded Oscar de la Renta sparkler Garner wore in 2014. Or maybe you'd like to take it back to this sleek, strapless navy Max Mara gown that Garner knocked out of the park at the 2014 SAG awards? I can keep going — trust me, I've got no shortage of material to work with here — but the point is, this ain't Garner's first rodeo, and it certainly won't be her last.
For a few extra close-ups, check 'em out:
Just days ago, a Vanity Fair released its latest cover, one where Garner is front and center. The main question the article sought to answer was: in light of her split from then-husband Ben Affleck, what's next for one of America's biggest sweethearts. Though Garner kept the particulars of what happened between the couple out private (which is absolutely her right), she did put the kibosh on one issue in particular. When asked by interviewer Krista Smith on whether or not Garner was the inspiration for Affleck's full-back tattoo (a phoenix rising from the ashes), Garner laid the speculation to rest once and for all. With a wink, she said: "I refuse to be the ashes."
Damn straight.