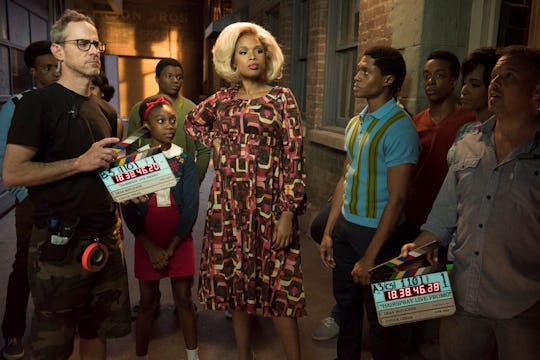 Colleen Hayes/NBC
Jennifer Hudson Breaks The Internet With Her 'Hairspray Live!' Performance & It's Amazing
Motormouth Maybelle is one of the most iconic characters in Hairspray because of her style, her confidence, and her fantastic songs. When Motormouth Maybelle takes center stage, everyone takes notice because she is the kind of character who demands attention – and deserves all the attention she gets. When Jennifer Hudson took to the stage and belted her first song of the night, the result was simply show-stopping. When she broke into her second, fans were simply blown away. Jennifer Hudson broke the internet with her Hairspray Live! performance, because she sounded just that good.
Hudson's powerhouse vocals soared during her renditions of Maybelle's songs: "Big, Blonde, and Beautiful" and "I Know Where I've Been." She stole the show with her incredibly strong voice, giving the songs a rich depth of feeling. Her first number was a fun, body-positive anthem that she handled with charm, but the second was particularly moving due to the strong messages of acceptance and racial tolerance at the heart of the song.
If Twitter is anything to go by, viewers were clearly impressed; fans took to social media to praise Hudson's performance and her incredible voice. Everyone was living for Hudson's performance as Motormouth Maybelle.
Hudson is a Broadway veteran thanks to her well-received turn as Shug Avery in The Color Purple. (She's also a pro at singing live, thanks to her stint on American Idol.) Yet even she felt a little nervous about jumping into Hairspray Live! "Nerves have to be a part of it because I kind of feel strange when I'm not nervous," Hudson told E! before the musical aired. "When you're doing things live like this and everything counts, you have to be on your toes, so the nerves keep you on your toes, you know?"
Based on the reactions from fans, Hudson didn't have any reason to worry. There's no doubt that Hudson stole the show, or at least the hearts of the people watching her.
By taking on the role of Motormouth Maybelle, Hudson joins an impressive list of singers and actresses who have played the character before, including Ruth Brown in the 1988 film and Queen Latifah in the 2007 adaptation. Other wonderful performers who took on the role on Broadway include Mary Bond Davis, Darlene Love, and Jenifer Lewis. It's a pretty fantastic club to be a member of, and Hudson has now taken a well-deserved spot amongst all those talented ladies.