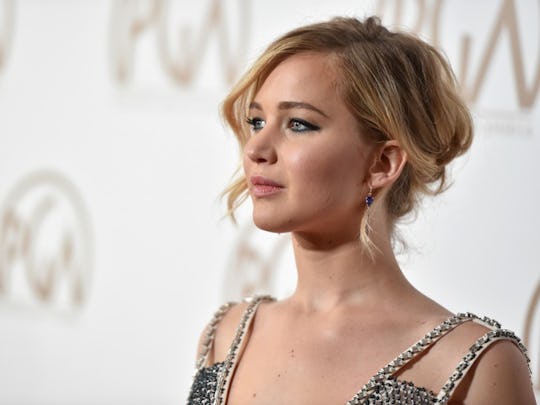 Kevin Winter/Getty Images Entertainment/Getty Images
Jennifer Lawrence Accidentally Started A Feud With Lindsay Lohan & It's Definitely Not Like Her
Thanks to a thoughtless comment on The Late Show With Stephen Colbert, Jennifer Lawrence accidentally started a feud with Lindsay Lohan, as well as Lindsay's sister, Ali, and their mother and infamous momager, Dina Lohan. It all started on Monday night, when J. Law, who's normally above petty Hollywood drama, was telling Colbert about how hard she works.
She said she works until she's sick, according to ABC News: "I'm a puker. I don't stop working because I am a show pony," Lawrence said. "I don't have a choice. So I just keep going until my body is like, 'If we don't make her barf or pass out, she won't stop.' I get like, Lindsay Lohan-grade exhaustion, but without any drugs or alcohol. I'm always in bed early. I'm still tired."
Lohan has been hospitalized multiple times for exhaustion, but rumors have persisted for years that there might be other factors at play besides her strong work ethic. Lohan's battles with drugs and alcohol were well-known in the press by the mid-2000s, and after her sixth stint in rehab in 2013, she finally opened up to Oprah about her struggles with alcohol and cocaine addiction, according to the Huffington Post. Lohan's younger sister, Ali, came to her defense on Twitter late Tuesday morning:
Oddly, Ali edited her tweet hours later, changing the last remark from "You lost a fan" to "Not cool."
Lohan, much like Charlie Sheen, has become a poster child for the dangers of Hollywood excess, and Lawrence made a remark that, though unkind, is nothing we haven't heard before from other celebrities, comedians, reporters, and perhaps even those in our own social circle. Lilo is low-hanging fruit. Lawrence was on the spot, saw an easy joke, and made it. What makes this so shocking is that we're used to seeing J. Law as America's sweetheart, everyone's BFF, or maybe that goofy cousin you can't wait to reunite with over the holidays. A mean-girl joke is just so unlike her. Lindsay responded to her sister's tweet on Tuesday by thanking her for her support and quoting Maya Angelou:
In a statement to Entertainment Tonight, Dina Lohan seemed disappointed in Lawrence:
We love Jennifer Lawrence, we have always been fans of hers. It was all unfortunate that she used Lindsay as a reference of not showing up to set, and that whole bit. It was disappointing that she didn't have her peers' back. You shouldn't trash anyone, it was just surprising. My family sticks together.
There's certainly no clear pattern of cattiness here, and I'm willing to write this off as a one-time, stupid mistake. Who among us hasn't poked fun at a celebrity's troubles from time to time? But it's important for us to remember that, although they're rich and famous, and we feel like we know them personally, celebrities are real people, no different from you or me, and their feelings matter. As for J. Law, maybe she should leave the jokes to her favorite comedian, Amy Schumer, from now on.
Image: Kevin Winter/Getty Images