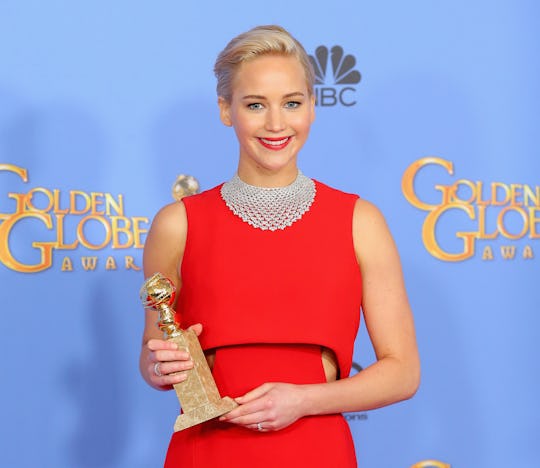 Jennifer Lawrence Kisses David O. Russell At The Golden Globes, & He Keeps The Lipstick Stain There All Night
Well, it's at least a good advertisement for whatever long-lasting lipstick Jennifer Lawrence uses. After winning the Best Actress award for Joy at the Golden Globes, Jennifer Lawrence left a lipstick stain on David O. Russell's cheek — and he was clearly quite content to keep it there. For the long haul. Seriously.
You might have noticed the stain in the moments when Lawrence took the stage for her speech, but, according to reporters backstage at the Globes, the director of Joy kept the mark there... and then some. Yes, according to Mashable, it seems Russell actually touched up the lipstick stain later in the evening. What does it all mean, you know?
Well, we shouldn't read into it. Because, mostly, Russell leaving the lipstick stain there means simply that Lawrence (and whoever crosses her path) is good at creating a moment. You only had to watch her presentation tonight with best friend Amy Schumer to understand that. (Well, that and every single red carpet or late night TV show she's attended in months and years past.) She's merely spreading the camera- and media-friendly wealth to Russell, someone who, according to Lawrence's speech, she wants to be "buried next to."
And, really, can you blame her? After all, Russell is the person who directed her Oscar-winning turn in Silver Linings Playbook, and Oscar nominated turns in both American Hustle and Joy. With that kind of record? Heck, I'd plant one on Russell too.
But, seriously, what lipstick does Lawrence use?
Image: Mark Davis/Getty