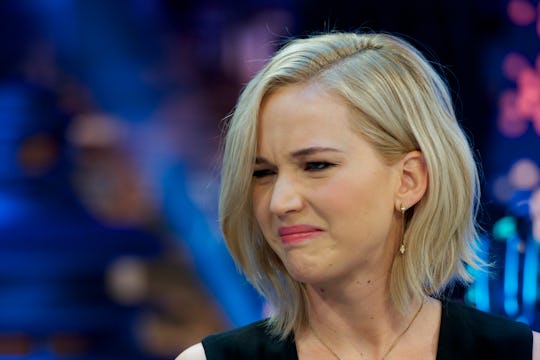 Jennifer Lawrence Nominated For A Golden Globe After Being Snubbed By SAG Awards
Jennifer Lawrence has one heck of a record when it comes to the Golden Globes, you guys. She's been nominated three times in four years — and she's won twice. After being snubbed by the SAG Awards nominations, the entertainment and fandom spheres were barely staying put on the edge of their seats, wondering Will she? Won't she? when it came down to the Golden Globes nominations. When the HFPA announced the 2015 Golden Globes nominees, I'm pretty sure you could count on one hand the number of people who were shocked to learn that that Jennifer Lawrence was nominated for a Golden Globe. Earning her nomination in Best Actress, Musical/Comedy Film, Lawrence has only further solidified her staying power among Hollywood's high-ranking powerhouses — and she's still under 30. Her latest film, Joy hasn't exactly earned the Oscars buzz that her other films have garnered this early on in the game.
Joy is true story of Joy Mangano (played by Lawrence), an Italian-American dreamer struggling to make ends meet. It follows both her and her family, four generations worth, on a quest to "make it" — which she does when she invents the Miracle Mop, a product which would become one of the QVC channels bestsellers. Joy is not a true biopic, as Russell reworked the script heavily and combined many female entrepreneur rags-to-riches stories to make Joy. The film also marks the third time Lawrence has teamed up with director David O. Russell (of American Hustle and Silver Linings Playbook fame). And Lawrence isn't alone. Fellow American Hustle cast members Bradley Cooper, Robert De Niro, and Elisabeth Röhm also appear in this dramedy. Joy is set to hit theaters on Christmas Day. Early screenings and reviews have earned Lawrence a lackluster report card, but still it's refreshing to see she was nominated for a Globe, especially when we've grown so accustomed to seeing her clean house during the awards show cycle.
On December 9, Lawrence's name was left out of the Outstanding Performance by a Female Actor in a Leading Role nominations for the upcoming SAG Awards. This year's nominees instead include Brie Larson (Room), Saoirse Ronan (Brooklyn), Helen Mirren (Woman In Gold), Cate Blanchett (Carol), and Sarah Silverman (I Smile Back). No one would dare argue that any of these women were unworthy candidates, but it is interesting to see Lawrence so notably absent from a nominations' pool. The praise for Joy has been conflicting, but if there's one thing we do know, it's that awards season is a long battle, and just because a film isn't nominated in one show doesn't mean it doesn't have the potential to take home a prize in another.
Fans, who've followed Lawrence devoutly in all of her roles, were the most vocal show of support when it came to the HFPA's announcement on December 10. They took to Twitter to express their joy:
Here's hoping the Girl on Fire gets the acclaim she deserves.
Image: Juan Naharro Gimenez/Getty Images