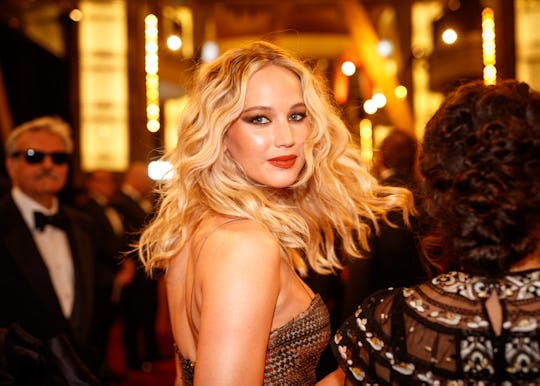 Christopher Polk/Getty Images Entertainment/Getty Images
Jennifer Lawrence's Oscars Look Is Sparkly Dior Perfection
The Academy Awards may be the biggest night for filmmakers and actors in Hollywood, but it's also a big night for fashion — so much so, really, that the Oscars red carpet is basically its own event. There's always a lot of pressure for celebs to nail their red carpet appearance, and while each year inevitably brings plenty of hits and misses, there are some stars who make standing out on the red carpet seem so easy. Jennifer Lawrence's Oscars look this year may have been a departure from some of the more traditionally-glamorous ball gown looks she's chosen in the past, but in light of the #MeToo and Time's Up movements and the outspoken push for female empowerment, her look is pretty much the perfect IDGAF response to anyone who may have wanted her to show up looking soft and delicate.
Lawrence stepped onto the red carpet dressed in a metallic Christian Dior dress, and completed the look with long waves, smoky eyes, and a red lip. In other words, this look was pretty much the opposite of the too-gorgeous-for words white Dior Couture gown she wore in 2013 when she won her Best Actress Oscar. And honestly? It couldn't possibly feel more appropriate.
Unsurprisingly, it didn't take long for Twitter to freak out over Lawrence's red carpet fierceness. After all, not only did she look incredible, she also stood out for being one of the few actresses to choose a metallic look for the big night:
As usual, Lawrence seemed totally prepared to have an awesome time:
And overall, Twitter users seemed totally here for her bold choice:
In other words? Lawrence was unapologetically owning the red carpet, and it was so refreshing. Although she wasn't actually nominated, Lawrence had been tapped to present the Best Actress award alongside Oscar Winner Jodie Foster, after last year's Best Actor winner, Casey Affleck, withdrew as a presenter in January in connection to "two settled sexual harassment lawsuits that stemmed from the set of his 2010 film I'm Not Here," according to Billboard.
That alone is an important statement worthy of a badass dress — the award, after all, is usually presented by a man — but that's not the only hint that Lawrence was probably going to opt for a strong look. In addition to opening up to ELLE about her own experiences with Hollywood harassment and objectification of women, and writing about the unfair reality of the gender pay gap in a Lenny Letter essay, Entertainment Weekly noted that Lawrence is currently working on a docuseries with former E! News anchor Catt Sadler, who left the network after 12 years once she discovered her male co-anchor was making more than double her salary, according to People.
Her dress definitely wasn't the only point Lawrence was making on the red carpet though. The actress recently told Howard Stern she hadn't decided if she'd be open to speaking to Ryan Seacrest on the Oscars red carpet in light of the sexual misconduct allegations he's facing, according to Us Weekly — and, ultimately, it seems like she did decide to give his questions a miss after all. (In a statement about the allegations, Seacrest said, "I have no choice but to again deny the claims against me, remind people that I was recused of any wrongdoing, and put the matter to rest.")
Of course, Jennifer Lawrence could wear a garbage bag to the Oscars and still somehow look totally chic. But the fact that she chose to show up to the red carpet this year looking like she absolutely no time for anyone's nonsense? I can't help but think that, maybe Jennifer Lawrence tried to make sure her Oscars outfit represented pretty much everything we're all feeling right now.
Check out Romper's new video series, Romper's Doula Diaries:
Watch full episodes of Romper's Doula Diaries on Facebook Watch.