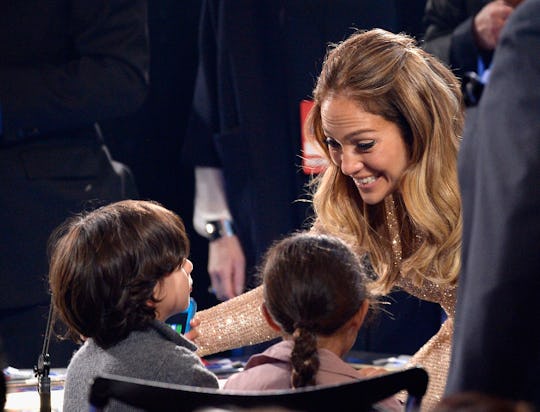 Kevork Djansezian/Getty Images Entertainment/Getty Images
Jennifer Lopez & Felicity Huffman Say "Mommy Guilt" Needs To Be Put To Bed
There is nothing worse than when someone shames a working mother for working hard and wanting to be a mom at the same time. Women are constantly told by gender norms that they can't have it all, but when they finally achieve a balance of success, they're shamed for it. And when you're under constant watch like celebrities Jennifer Lopez and Felicity Huffman, you experience the shame twice as hard. So when Jennifer Lopez and Felicity Huffman say "mommy guilt" needs to stop, I'm listening.
While there isn't a clear definition of mommy guilt out there, it typically boils down to the feeling mothers get when they feel as if they're not making the right decisions for their kids — its the feeling of shame when they leave their kids to go to work instead of staying at home.
As working mothers under the watchful eye of the public, Lopez and Huffman know these feelings of shame first hand — making the decision to work and act in Hollywood rather than stay home with their children. Huffman highlighted the shame that working moms tend to feel — but that their husbands do not feel.
"They asked working moms, they said 'What percentage of you guys feel guilty about working outside of home?' And it was 98% And they said, 'Even part-time moms, what percentage?' And it was again like 98%," Huffman said, according to Variety.
"And then they asked working dads, both full-time and part-time. And guess what percentage of working dads feel guilty about their kids?" Huffman asked.
"Was it zero?" Lopez asked, according to Variety.
I think we all know the answer to that question. Lopez is an incredibly hard working actress and singer and is mom to 8-year-old twins Max and Emme.
"If I get lost in my work for a little while, I feel so guilty when I come out of that haze," Lopez said. "Like 'Oh god, it's been seven hours and I haven't even checked on them. What is wrong with me? What kind of mother are you?!"
Huffman, wife of fellow actor William H. Macy and mother to two teenage girls, Georgia and Sophia, has been vocal about mommy guilt once before. On her website, What The Flicka, Huffman got incredibly candid about feelings of mommy guilt.
"I continue in this self-inflicted suffering that does nobody any good," Huffman wrote. "Let me revisit the question 'Why do I feel so guilty all the time?' It starts because I feel completely and utterly responsible for my children's happiness and wellbeing."
Huffman continued admitting that the guilt gets in between her and enjoying parenting. "Surely, it is possible that after a 12-hour day I would want to come home and put my kids to bed, I would be tired, yes, but I would have missed them and would want to be with them. But because I feel guilty being away at work, putting the kids to bed becomes a penance."
Huffman also mentioned how important it is to put yourself first when guilt gets in the way. If men are able to go to work and leave their kids at home, why can't women do the same and not feel ashamed for it?
Huffman and Lopez both make a very excellent point. While the happiness of your children is the most important thing as a mother, your own happiness should not have to take a backseat.