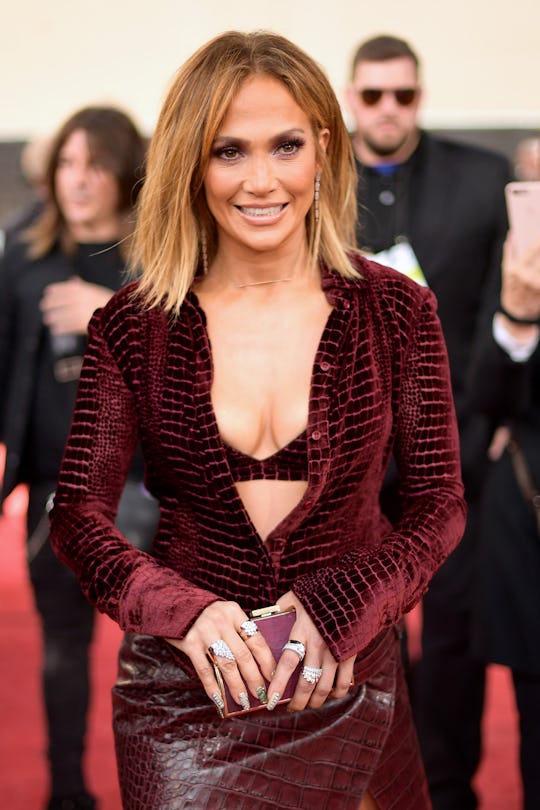 Matt Winkelmeyer/Getty Images Entertainment/Getty Images
Jennifer Lopez's Family Photo With Alex Rodriguez & Marc Anthony Is Co-Parenting At Its Finest
Sometimes relationships just don't work out and you'd be hard-pressed to find someone who has never gone through a breakup at some point in their life. It's just one of those realities of life, but when kids are in the mix, it can be a much more complicated reality. So it's reassuring to see families who have been able to make it past the tougher times, like Jennifer Lopez, who recently shared a new family photo with her boyfriend Alex Rodriguez and ex husband Marc Anthony at a dance recital for their kids. If you needed some co-parenting inspiration or just a dose of happiness, look no further.
On Wednesday night, the singer and mom of 10-year-old twins — Emme Maribel and Maximilian David Muñiz — took to Instagram to share an adorable photo of her blended family. The 48-year-old pop star attended the dance recital with her boyfriend, Alex Rodriguez, as his two daughters, 10-year-old Ella Alexander and 13-year-old Natasha Alexander, were also performing. And in true modern family fashion, Lopez's ex-husband, and father of the twins, Marc Anthony also showed up to support the kids. At the end of it, they all got together and took a really sweet family photo.
Lopez simply captioned her photo of the happy family with the hashtag "#familiaprimero," which is Spanish for "family first." And while the photo itself is pretty sweet, it's nice to see that it looks like everyone just seems really happy. Co-parenting isn't easy, but if you're giving it your best as Lopez and Anthony clearly are, then it can actually end up being a pretty great situation for everyone.
Both Lopez and Rodriguez, who have been together for a while now (at least since March 2017, according to People), shared some behind-the-scenes footage of the family getting ready for the dance recital as Lopez herself acted as the girls' own glam squad. Additionally, it seems as if the recital itself offered some sort of tribute to Lopez, with the girls dancing to a mix-up of some of the singer's biggest hits, including "Jenny From The Block" and "On The Floor," according to People.
Long story short, it was a great night. And Lopez, Anthony, and Rodriguez definitely seem to have mastered the art of co-parenting, which is something she's talked about in the past. Speaking to Kelly Ripa and guest host Jeffrey Dean Morgan on Live With Kelly last year, for example, Lopez explained that her relationship with Anthony was actually really good, even while they worked together on a new album. According to People, she said:
At first I was like, "We're good with the kids and everything, but if we start working together, are we gonna start going at each other again?" And it's been awesome. Honestly, I think it's even helped our relationship... We're just in a really great place, and the kids get to spend time with the two of us more together and see us working together. It's just good for the whole family.
And that's not all that the Grammy-nominated artist has learned as she's gotten older and wiser. Oh, no. Opening up to E! News back in 2015, Lopez talked about how she learned to parent with a little bit of tough love. Explaining her family's tradition of "Sunday Funday," Lopez explained:
It starts with a late breakfast. We sleep in, even the kids sleep in. And Sunday Funday, they work towards that because they don't get to use their iPads during the week. Or play video games or anything because it's school time. And they have to be good in school and then they get Sunday Funday. It's something I made up so they could work towards it and behave!
In reality, though, Lopez recognizes that parenting isn't all fun and games. "You have to juggle the kids and the working and the taking care of yourself," she told ABC News earlier in June. "It's not an easy thing."
But based on the awesome family night on Wednesday and the adorable photo it created, it's no secret that the Lopez-Anthony-Rodriguez family has got this co-parenting thing down to a science.