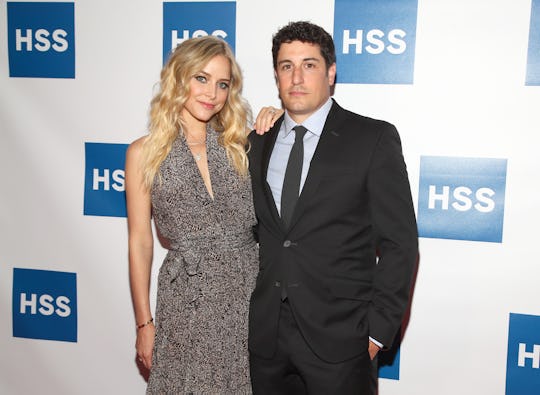 Astrid Stawiarz/Getty Images Entertainment/Getty Images
Jenny Mollen Got Honest About Postpartum Sex, & Unfortunately, It Is Entirely Accurate
No matter how hot your pre-parenthood sex life with your partner may have been, there's no question that having an infant to care for can change things in a major way — and there are lots of reasons why. The intense sleep deprivation of new parenthood definitely doesn't help, nor does the fact that trying to care for a tiny infant suddenly takes up 100 percent of your energy and focus. But on Monday, Jason Biggs and Jenny Mollen spoke about postpartum sex, and they didn't even try to hide the fact that, even when you're out of the newborn stage, things never quite return to the way they once were.
Aside from being two painfully honest and hilarious individuals who seriously seem absolutely made for one another, Biggs and Mollen — who have been married for a decade now — are also parents of two sons: 4-year-old Sid, and 8-month-old Lazlo. But even though they're celebrities who could easily make it seem like their life together is totally Instagram-perfect, they're much more comfortable telling it exactly like it is. And most recently, that involved joking to Us Weekly that their concern over getting pregnant again at this point has meant that Biggs "can't [ejaculate] in the same room" as his wife anymore (for good measure, Mollen added, "He'll pull out and I'll be like, 'Not near me!'").
If you've never had kids, that quip might lead you to believe that Biggs and Mollen's sex life has totally fizzled. But when you've got a preschooler and a baby and aren't exactly in the mood to have anymore, well, their comments actually make a lot of sense. It doesn't seem like either of them are bothered by their less-than-romantic approach, though, and the couple did add that their sex life was actually improving now that their son was out of the newborn period — and, perhaps most importantly, weaned from breastfeeding.
As Mollen explained to Us Weekly,
[Something] nobody tells you after having a baby is that as long as you're breastfeeding, your vagina is a post-menopausal desert and you don't know that until you bring it up with your doctor and he's like, 'Oh, that's normal.' Now that I'm not breastfeeding, things are normal down there.
It makes sense, of course, that the physical and hormonal changes that accompany pregnancy and childbirth can have a big impact on your desire (and even your ability) to have sex as a new parent, yet it definitely seems like one the many details about the postpartum period that is rarely discussed. And even though Biggs and Mollen discuss postpartum sex in a joking way, it at least helps new parents — and especially new mothers — know that it's not weird at all if things seem really different after baby than they once did.
At the same time though, the couple is also experienced enough at this point to be more than familiar with the ups and downs of sex after kids. In Sept. 2016, when their first son was 2-years-old, the couple told Cosmopolitan that while having kids can slow down your sex drive, the truth is that so can being in a long term relationship in general. And when you have a new baby? They pretty much agreed there should be no pressure to start having sex again right away. When asked about what they did with their infant son when they had sex, Mollen said,
We definitely weren't having sex, right? We just had a newborn … that was the last thing I wanted to do. For the sake of all women, I don't want to encourage men to try and have sex when she just had a baby. Give her a f**king break, man.
In fact, these days, after ten years of marriage and two kids together? Biggs and Mollen are at the stage where even their idea of turn-ons have completely changed — and it's hilariously relatable. In an interview with People in March 2018, Biggs was asked about the sexiest thing he thought his wife could do for him after so many years together, to which he pretty much immediately replied, "Oh, take the kids and leave for a couple hours." And, well, Mollen definitely felt the same way: she joked, "Oh God, yeah. I think just leave me alone."
As complicated as reestablishing your sex life can be after having a baby — not to mention keeping it going amid the everyday struggles of being parents — the truth is that as much as things may change, it's not always a bad thing. So if there's one thing new parents can learn from Biggs and Mollen, it's that the often less-than-sexy reality of postpartum sex is more or less universal. And it probably helps a lot if you're able to laugh about it.