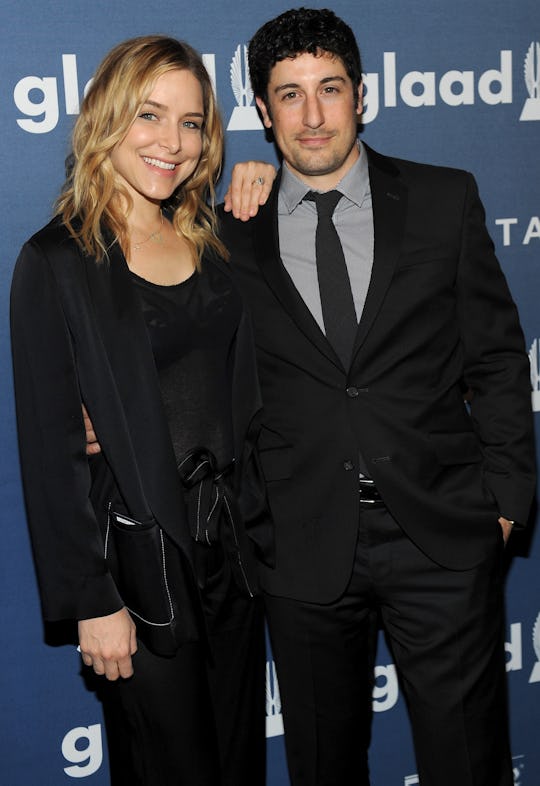 Brad Barket/Getty Images Entertainment/Getty Images
Jenny Mollen's Postpartum Selfie With Jason Biggs Will Literally Make You LOL
As I'm sure you already know, motherhood comes in many shapes and sizes. There is no one-size-fits-all standard for any stage of being a mother. From postpartum recovery to baby milestones to everything in between, everyone is different. But honest portrayals of the experience over social media can be an asset to moms in the trenches. Recently, Jenny Mollen shared a postpartum selfie taken five months after giving birth to her son and moms are loving it. Mollen has been an honest voice throughout her pregnancy and postpartum period and her followers are grateful for it.
The actress and her husband Jason Biggs welcomed their second child, Lazlo Biggs, on Monday, Oct. 2 in New York City. He weighed 7 lbs, 1 oz. at birth and was 20 inches long. Just five months later, Mollen shared her changing body with her followers, showing off the hard work of time spent on pilates. The photo is a mirror selfie that shows the new mom, posing sideways while her husband stands in towel, looking pained as he sucks in his own tummy. "#5monthspostpartum Thanks @the100pilates," her caption reads.
The photo has amassed thousands of comments from Mollen's followers, many of whom praised her for her candor and willingness to share her experiences following her pregnancy.
One of the followers thanked her for her refreshing honesty, making the very valid point that she rocks. "You look fabulous @jennyandteets2! #thank you for always being so real with everyone," they wrote. "It's so refreshing and of course — you kind of ROCK! ;)"
Another, a new mom in her own right, shared that Mollen's post is an inspiration to her. "Wow amazing and inspiring! I am 8 months postpartum with my first and have yet to find a balance slash motivation to get in gear physically!" she wrote.
Of course, others pointed out that her husband is kind of a focal point in the photo. "You look incredible. Why Jason gotta try to steal the spotlight with that amazing face and truly impressive sucking in ability?" one person said. Another wrote, "Tell Jason to exhale. He might pass out from sucking it in."
Motherhood has brought out Mollen's propensity for sharing and it would appear that little is off limits, which her legion of followers are clearly happy about.
In a similarly honest post from December, Mollens shared a snap of herself mid-pump, rocking out to some sick jams. She captioned the photo:
If you aren't reenacting the Madonna Express Yourself video while actually expressing yourself, what are you even doing with your life? #3monthspostpartum
There, too, moms jumped at the chance to praise her for then honesty that is regularly displayed on her Instagram. One person said, "From one pumper to another, thanks for putting a positive spin on the pumping life!"
Another explained that her posts are getting her through her own postpartum experience. "Your funny and candid posts about being a new mom are helping me through maternity leave," she wrote. "I'm like why isn't anyone talking about their tight and dry vaginas? Am I an alien? I am not."
The trend to keep it real on social media as a celebrity parent seems to be spreading. Big name moms like Pink, Chrissy Teigen, and Kristen Bell have made it the new norm to share their motherhood experiences, including the good, the bad, and the ugly. While their honesty sometimes leads to them being shamed — over the littlest things, I might add — it also offers their followers the opportunity to see that life as a mom isn't all sunshine and rainbows for them either. I, for one, hope that the photos, anecdotes, and revelations on motherhood from my favorite voices don't stop any time soon. That goes for you, too Jenny Mollen.
Check out Romper's new video series, Bearing The Motherload, where disagreeing parents from different sides of an issue sit down with a mediator and talk about how to support (and not judge) each other's parenting perspectives. New episodes air Mondays on Facebook.