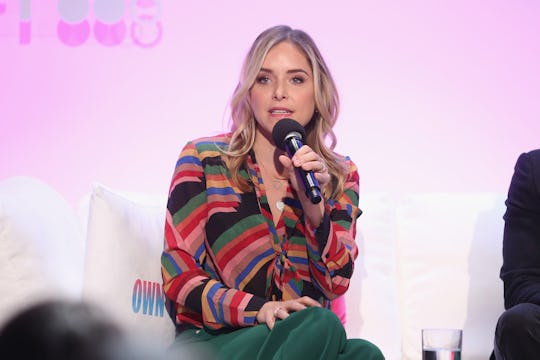 Cindy Ord/Getty Images Entertainment/Getty Images
Jenny Mollen's Parenting Instagrams Are Hilarious
Baby No. 2 is on the way for author and actor Jenny Mollen and husband Jason Biggs. The couple announced the pregnancy on Thursday through a hilarious Instagram photo posted to Mollen's account. It's no surprise they chose to use humor to reveal the news. After all, they star together in the sitcom I Like You Just The Way I Am, based on Mollen's bestselling collection of comedic essays. Plus, Jenny Mollen's best parenting Instagrams are funny AF, so obviously the announcement would have to be too. Duh.
Mollen, 37, and Biggs, 38, have been married since 2008, tying the knot a year or so after meeting on the set on the largely panned comedy, My Best Friend's Girl. A few years later, the couple announced they were expecting their first child; Molleen gave birth to 3-year-old son Sid, in February 2014.
This time around, Mollen and Biggs employed the use of the Fridababy NoseFrida snotsucker for their baby announcement. The tube is stuck up Biggs' nose, while the end where the parent would suck out the snot is in Mollen's mouth (I know I'm a mom, but writing that kind of made me want to vomit). The caption read, "This is how I told my son babies are made. #numbertwo#nosefrida @fridababy#teetsreincarnated."
Mollen and husband Biggs, who starred in Netflix's hit series, Orange Is The New Black, are no strangers to social media controversy, but the 37-year-old actor and writer faced an onslaught of criticism after she posted an Instagram photo Thursday showing of her baby bump. According to Refinery29, trolls descended on Mollen's account to chastise the mom for being nude in front of Sid in the shower. People called the image "inappropriate," not realizing that it's completely and utterly normal for parents to bathe with their children. According to PopSugar, most parents stop showering with their kids around Sid's age, 3 years old.
In spite of the critics, Mollen received a lot of support and congratulations from her followers. Here are some of Mollen's other adorable Instagram posts that find the humor in parenthood.
Don't Mind Me, I'm Just Walking Through
"Okay, that turkey was great and all but now it's time to strip off our pants and get crunk"- Sid Biggs, Playboy
Kids are like that person who is completely inappropriate but doesn't realize they're completely inappropriate, and the next thing you know they're pants-less and demanding snacks.
Children Are Gremlins
Editor's Note: The Instagram post has since been deleted.
Somebody poured water on us after midnight and these things appeared!
Having a kid is like jumping through a time loop. One day you were waking up at noon after staying out all night and the next day, you're a parent.
Is It A Kid Or That Dude Who Partied Too Hard?
When the passenger seated next to you has too many screwdrivers.
I don't know about you, but I've been around plenty of drunk people to confidently say that children are no different than someone who got a little too happy at the bar.
Free Fun Is Good Fun
NYC offers a real diversity of winter time activities for toddlers.
As a native New Yorker, I cannot confirm or deny that I spent most of my childhood like this.
You Take That Secret To The Grave
When a valet is outrageously expensive, the easiest thing to do is just pay his fee then let your son unlock his register and snake a couple fifties. #momtips
Listen, you carried them for nine months and have to raise them for 18 years. They can do something for you in return.
The Next Situation
Editor's Note: The Instagram post has since been deleted.
"Don't hate the player, hate his mom."
It has to start somewhere, right?
Parenthood is a lot of work—a lot of freaking work. And sometimes you need a little humor to get you through the day. After all, if you can't laugh at yourself (and your kid), how can you laugh at anything else?