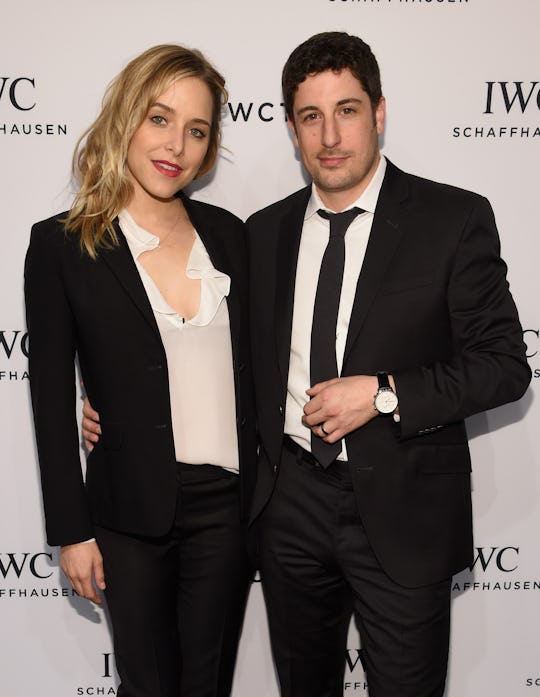 Dimitrios Kambouris/Getty Images Entertainment/Getty Images
Jenny Mollen's Honesty About Hyperthyroidism After Pregnancy Is An Important Read For All Moms
There is so much that women are (rightfully) concerned about during their pregnancies for not only their own health but the health of their babies. But some people tend to forget that focusing on your health and health issues after pregnancy is just as important. Actress and mom of two Jenny Mollen knows to be true and revealed that she struggled with hyperthyroidism as an after pregnancy complication in an Instagram post on Friday. It's awesome that Mollen's honesty about hyperthyroidism after pregnancy could reach so many women out there who could easily be going through (or eventually go through) the same thing as Mollen.
Mollen is a mother of two sons with husband, Jason Biggs, according to People — 4-year-old Sid and 6-month-old Lazlo. Since giving birth to Lazlo in October, Mollen has been super open with fans about those not so glamorous moments of motherhood — like how Lazlo prefers to be bottle fed or how her body has changed since she gave birth. And Mollen's newest Instagram post echoes that willingness to be open with her fans.
In the post, Mollen shared a photo of her body's side profile but the caption is where fans might be shocked to learn that Mollen could be dealing with a health scare. In the caption, Mollen revealed that her rapid weight loss from her post-baby body could be attributed to hyperthyroidism. "This morning I woke up with a giant bulge in my neck the size of a golf ball," Mollen scarily revealed. "I had blood work and an ultrasound and will be waiting for the results over the weekend."
Mollen continued in the photo's caption, writing:
Though I am not certain, I have a good reason to believe it is some sort of hyperthyroidism. Apparently this is common in women AFTER pregnancy. If anyone has experienced this or thinks the same thing comment down below.
While the uncertainty of the situation could be nerve wracking for Mollen, she definitely isn't alone. So many women took Mollen's cue to share their own stories with hyperthyroidism. "Same thing happened to me," one commenter wrote. "Second child. Breastfeeding so I thought that was the reason for the weight loss. Then I started loosing hair. Then it was hard to swallow. Finally went to the doctor. It's been 14 years now." Other commenters chimed in with possible alternatives to what Mollen's problem might be. "It's possible it's thyroid," another commenter said. "But if thyroid tests are negative, it's also possible your metabolism rocks and after having a baby, many women can have rapid weight loss simply due to physiological changes."
I'm sure Mollen appreciates knowing that she isn't alone in this scare — and the best part about it is, her story and Instagram post has the power to help other women, too. This isn't the first time that Mollen has been open about her weight loss with Lazlo. Last month, Mollen shared a photo of her slimmed down body, attributing it to pilates classes. But pilates isn't necessarily the thing to attribute to rapid weight loss.
Hyperthyroidism is something that can be developed after pregnancy and effects an estimated 5 percent of women, according to the Cleveland Clinic. Most women who have postpartum thyroiditis don't experience the symptoms until six months after pregnancy (like Mollen at the moment), according to the Cleveland Clinic and once the symptoms show, they can range from rapid weight loss to increased anxiety. But it can be treated, according to the Hormone Health Network, with the help of medication and in most cases, the thyroid does return back to normal.
Due to Mollen's willingness to be open with fans, its likely that this won't be the last that people will hear about Mollen's thyroid or what is to blame for her rapid weight loss. The good thing is, by sharing her story, she can feel a little less alone knowing that there are other people who have gone through the same thing.